I have to say...events are fun...especially when I've made something already and I can just post it! I wanted to find a way to use up all the leftover
Easter
candy we had, and brownies were a perfect way!
This event is hosted by Myriam at
Once Upon a Tart
, and because I LOVE chocolate, I couldn't pass it up!
I used the bakers unsweetened chocolate recipe from the back of the box, modifying it a little by subbing some of the sugar for S
plenda
and adding some whole wheat flour. I also put in some vanilla centered
Hershey
kisses and chopped chunks of a
Cadbury
dark chocolate bar (see previous Easter candy post).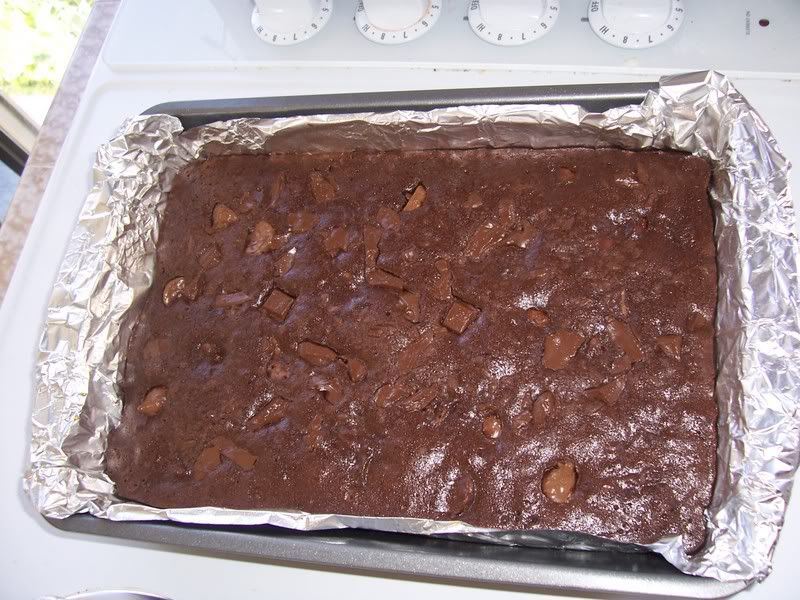 Triple Chocolate Brownies with a Hint of Vanilla
4 squares Unsweetened Baking Chocolate
3/4 cup (1-1/2 sticks) butter or margarine
2 cups sugar (Or 1 1/2 cups sugar, 1/2 cup baking sugar substitute-I used
Splenda
)
3 eggs
1 tsp. vanilla
1/2 cup AP flour
1/2 cup whole wheat flour
About 3 oz coarsely chopped semi-sweet chocolate
1 to 1 1/2 cup of vanilla centered
Hersheys
kisses
PREHEAT oven to 350°F. Line 13x9-inch baking pan with foil, with ends of foil extending over sides of pan. Grease foil.
MICROWAVE chocolate and butter in large microwaveable bowl on HIGH 2 min. or until butter is melted. Stir until chocolate is completely melted. Stir in sugar. Blend in eggs and vanilla. Add flour; mix well. Mix in kisses and chopped semi sweet chocolate. Spread into prepared pan making sure chocolate additions are spread evenly around pan.
BAKE 30 to 35 min. or until toothpick inserted in center comes out with
fudgey
crumbs. (Do not
over bake
.) Cool in pan on wire rack. Remove brownies from pan, using foil handles. Cut into squares. Store in tightly covered container at room temperature.
NOTE: Because I used whole wheat flour, I got a few small grainy pieces in the brownies, but once I realized what it was it didn't affect the taste, and there wasn't that much of it. Also, you can add whatever "stir ins" you want but I don't like nuts in my brownies, just a bunch of chocolate! The
fudgey
-er and richer, the better! These weren't as rich as I'd like (they would be perfect who likes an average density brownie), but I loved the dark chocolate chips and the hidden surprise of vanilla in every few bites. Let's just say they were so good I had to give most of them away because my fiance and I started inhaling them!