This week was very eventful food-wise for me as you will be able to see from the next couple posts. My sweet tooth led me to try out a couple cake recipes that I have had my eyes on. The first was a kraft foods recipe that can be found
here
.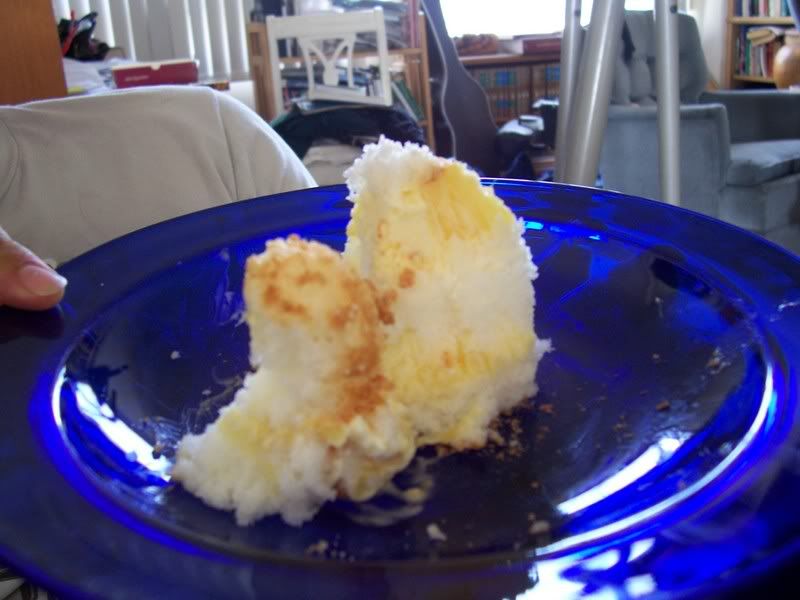 As you can see (or not cause I was too embarrassed to take a picture of the finished product before we cut into it) it didn't turn out to pretty. But I'm going to blame it on the fact that I was very tipsy/drunk, we didn't use store bought angel cake, and our knives are dull so the cake started to fall apart as I tried to cut it into layers. This is the way its supposed to look:
The cake itself is an angel food cake that I made from a box mix with a filling and topping of cool whip, crushed pineapple, and vanilla pudding mix. It was really sweet but very good and my taste-testers loved it. It was even better frozen. Not like that's a suprise though, becuase I like most of my desserts frozen. Here is the angel food cake cool upsidedown like it said to on the package. It looked kinda funny, expecially because of the alcohol in my system.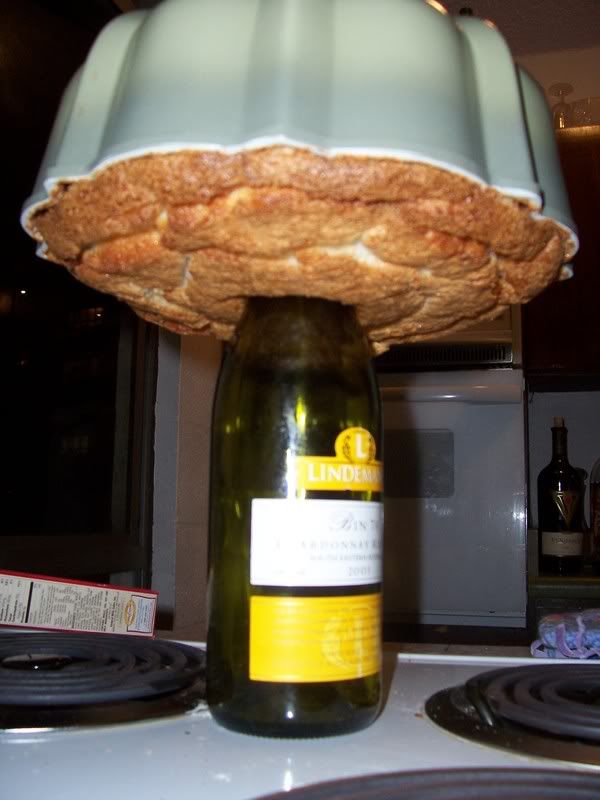 The second cake I had planned to try was a Carrot Cake Roll I made for Easter. It was my first carrot cake and my first roll cake and it could have turned out worse (but also better). I took half to my step-mother's Easter gathering and the other half to my mother's dinner (where I got to have half a piece). Taste wise it was wonderful. The cake was very moist, fluffy, and light. And the frosting was thick and rich (WAY better than store bought frosting). The top/outside is decorated with walnuts and mini carrot designs piped on with colored frosting. I took lots of pictures to document my first semi-difficult assembly cake. I didn't adapt the recipe much at all except for using some splenda and some whole wheat flour in addition to the normal ingredients.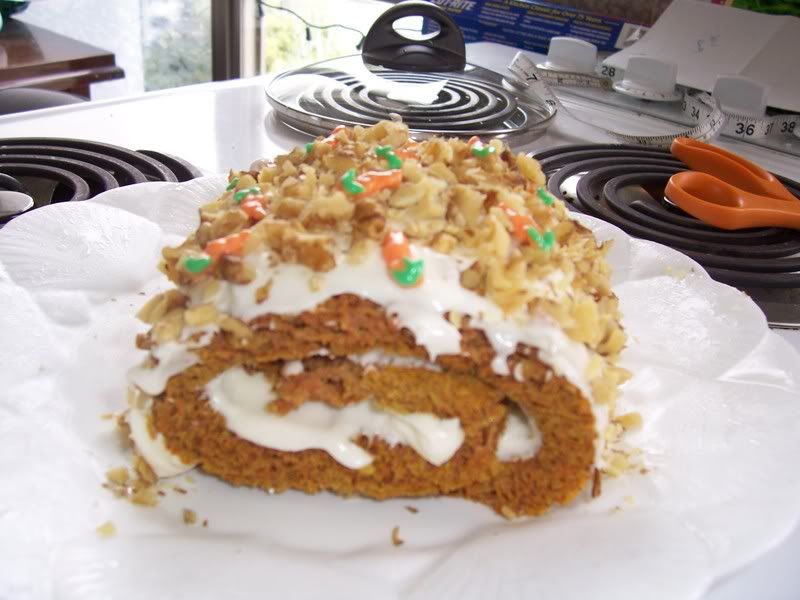 Carrot Patch Cake Roll
Taken from Woman's Day 4/05
Ingredients
3/4 cup all-purpose flour (I used 2/4 cup ap flour and 1/4 cup whole wheat)
1/2 tsp baking powder
1/4 tsp salt
4 large eggs, at room temp.
White from one large egg, at room temp.
2/3 cup granulated sugar (I used a little under 1/3 cup splenda and a little over 1/3 cup reg sugar)
2 tsp vanilla extract
1 and 1/2 tsp ground cinnamon
1/4 tsp ground nutmeg
1 and 2/3 cup finely shredded carrots
Confectioner's sugar for dusting
FOR FROSTING
6 oz cram cheese, not softened
3/4 stick (6 Tbspn) butter, softened (I used 4 tblspns margarine, 2 tblspn butter)
2 and 1/2 cups confectioners sugar
1/2 tsp vanilla extract
Green, red, and yellow food coloring
1/2 cup chopped walnuts
Directions
1) Heat the oven to 350 degrees F. Coat bottom and sides of a 15 1/2 x 10 1/2 x 1-in rimmed baking sheet (or jelly roll pan) with non stick spray. Line bottom with wax paper; spray paper.
2) Have ready a medium or large fine meshed strainer or sifter. Stir flour, baking powder, and salt in a small bowl until combined.
3) Beat eggs, egg white, granulated sugar, vanilla and spices in a large bowl with a mixer on high speed for 8 to 10 in until thick and tripled in volume. Fold in carrots. Holding strainer or sifter over bowl, shake or sift flour mixture over egg mixture. With a rubber spatula gradually fold into eggs until just blended. Spread in prepared pan.
4) Bake 15 min. or until a wooden pick inserted in center comes out clean. Cool in pan on a wire rack 5 minutes or until pan is cool enough to handle.
5) Meanwhile lay a clean kitchen towel (not terrycloth) on countertop. Dust confectioners sugar evenly over towel, covering area the size of the cake. Invert cake on towel, remove pan, and carefully peel off paper. Dust cake with confectioners sugar. Starting at narrow end, roll up cake and towel. Place on wire rack, cool completely.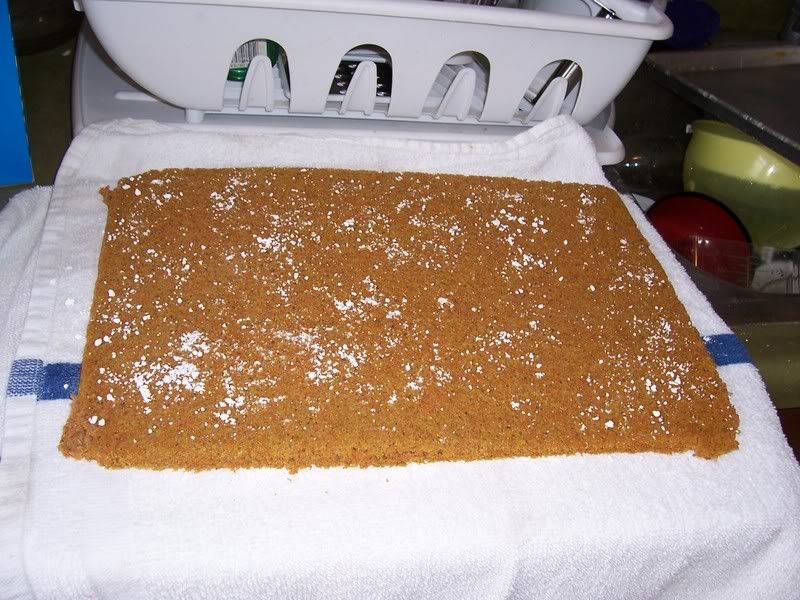 6) Meanwhile make frosting: Beat cream cheese and butter in a large bowl with mixer on medium speed until blended and smooth. On low speed beat in confectioners and vanilla until blended; increase speed to medium and beat one minute. Remove 3 Tblspn to a cup; cover and refrigerate remaining frosting 30 minutes to firm.
7) For carrot decoration: Spoon 1 Tblspn frosting from cup into another cup, tint green and scrape into a 1 quart zip top freezer bag. Tint remaining 2 Tblspn frosting orange using red and yellow food coloring. Scrape into another ziplock bag. Seal bags, refrigerate until use.
8) To assemble: Carefully unroll log. Spread evenly with 1 and 1/3 cup frosting. Roll up same end as before using towel as an aid. Carefully transfer to a platter, coat with remaining frosting and sprinkle with nuts. Rerigerate 20 min before piping carrots onto nuts. (I had a little trouble with the cake sticking to the towel, you might want to put a lot of powdered sugar on the towel especially towards the edges and corners)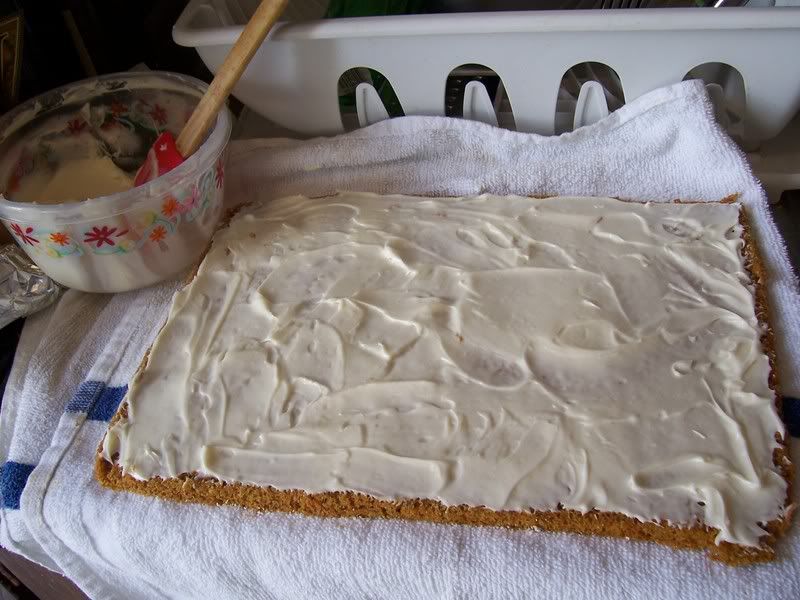 9) To decorate: Briefly warm refrigerated bags of frosting between hands. Snip off corner of each bag and pipe carrots and carrot tops randomly on cake. Refrigerate until serving.
Serves 12