Even though I will be making a lot more over the next few days: Manacotti, Angel Lush Cake, Carrot Cake Roll, Soup, etc. I wanted to post two successful recipes that I made this past week.
The first is from a Kraft
Food and Family
Recipe Magazine. I liked it a lot, it pairs two of my favorites: Mac and cheese, and chili, into a dinner that is only 370 cals per serving! My family liked it so much that my dad said I could make this every night of the week and he would be happy. It is really comforting and makes a hearty, filling meal with just a few steps.
Chuckwagon Chili Mac
Ingredients:
1 pkg (Kraft) Macaroni and Cheese Dinner
1 lb extra lean ground beef (I used ground turkey)
1 Tbsp. chili powder
1 tsp. ground cumin
1 can (14.5oz) stewed tomatoes, undrained
1 can (about 16oz.) kidney beans, drained
Reduced fat or light cream cheese, for serving suggestion
2% milk shredded reduced fat sharp cheddar cheese, for serving suggestion
Prepare Dinner as directed on package, using margarine or light butter and skim milk.
Meanwhile, brown meat with chili powder and cumin in large non stick skillet on medium heat. Add tomatoes with their liquid and the beans, ; simmer 3 min., stirring occasionally.
Stir in prepared dinner, cook 3 to 5 min more or until heated through, stirring occasionally. Top with dollop of sour cream and sprinkle of cheddar cheese.
Makes 6 servings.
**************************
I had a couple of bananas browning in my kitchen and I hadn't made banana bread or muffins in a while so I decided on a recipe card I had from a while ago for banana nut muffins. In the middle of making them, I had a quick idea that turned these into a healthy version of a classic dessert in a muffin.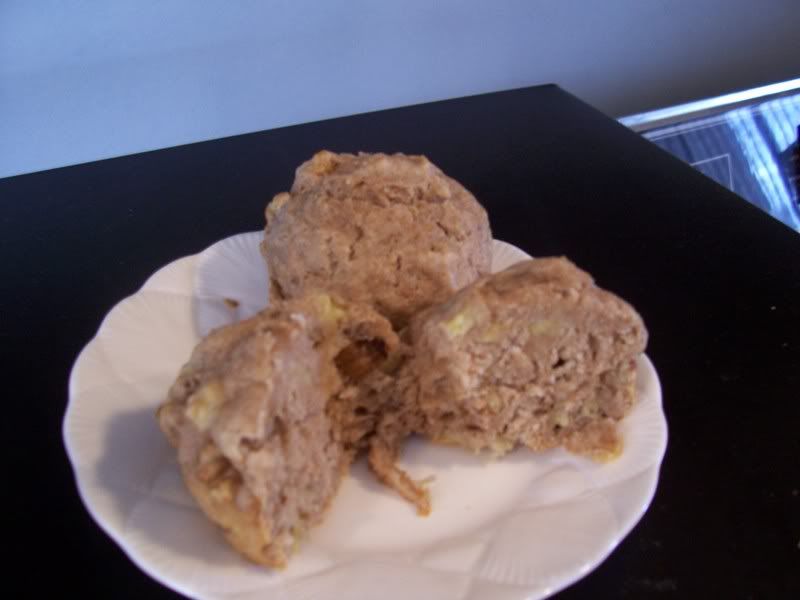 Banana Fosters Nut Muffins
Ingredients:
1 cup all purpose flour
1 cup whole wheat flour
1/4 cup sugar (I used Splenda sugar substitute)
1 Tblspn baking powder
1/2 tsp. salt
3/4 cup milk
1/4 cup dark rum
1 tsp. cinnamon
1 egg beaten
1/3 cup vegetable oil
3/4 cup mashed banana (my 2 bananas made a little more)
1/2 cup chopped walnuts
1) Preheat oven to 400 degreesF. Grease a 12 cup muffin tin. Sift flour, sugar, baking powder, cinnamon, and salt into medium bowl; make a well in center.
2) Mix milk, rum, egg, oil, banana, and walnuts in a small bowl. Pour mixture into well.
3) Fold banana mixture into flour mixture just until moistened; do not overmix.
4) Spoon batter into prepared muffin cups. Bake until a toothpick inserted comes out clean, about 15 min.
Makes 12 muffins
For optional drizzle: 1/3 cup cofectioners sugar and 1 Tblspn skim milk, stir together, add 1/2 tsp rum for flavor, stir until smooth, flavor more to taste. Drizzle over warm muffins.
Note: They turn out very moist and good for breakfast. These muffins have a profound rum taste but aren't significantly sweet; their muffins, not cupcakes. That is why I made the drizzle, but it doesn't do much. I will experiment by making banana fosters cupcakes sometime, but if anyone comes up with a recipe for that before I do, please share it with me!