I found a recipe for whole wheat pizza dough on a fellow foodie
blog's
site (can't think of whose at the moment-if it is you, please speak up), and
proceeded
to make two incredibly delicious (and healthy) pizzas over the last week and a half.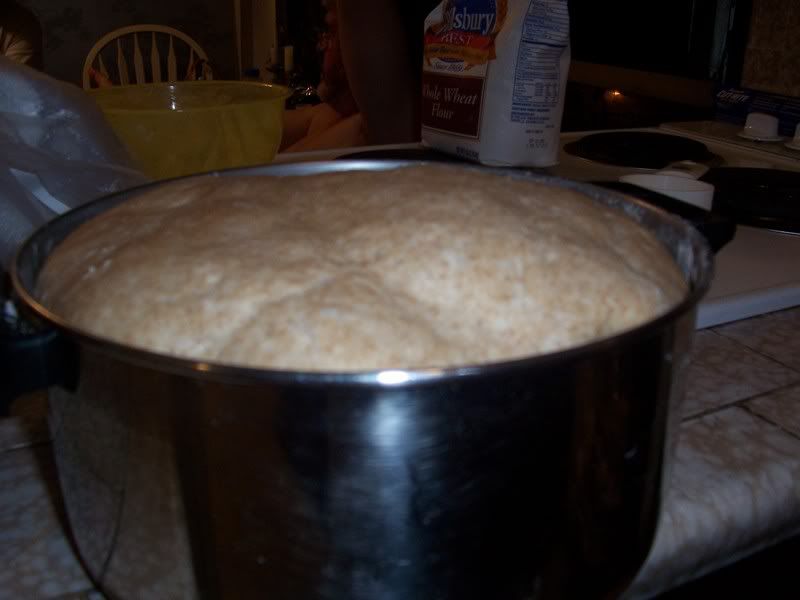 The first of them I stupidly deleted off my camera so I do not have the lovely pictures of, but I will give you the basic recipe
gist
. It was a tuna (yes-strange I know) pizza but it tasted like my mothers open-faced tuna melts, only on pizza dough. After rolling prepared pizza dough to desired size, take 2 small cans (10 oz) of tuna, 1/2 cup minced onion, 1/3 cup mayo (I used light), salt and pepper, s
liced
tomato, and 4-5 slices of American cheese. Mix the tuna, salt, pepper, onions, and mayo together,
spread
over crust. Arrange tomato slices in 3 rows leaving space between rows (for proper cooking I assume). Bake on 425 degrees F for 10-12 min. Cut American cheese into strips and place on pizza once done and let stand for 5 min so cheese can melt. We all loved this recipe!
Oooh...oooh....Randy took a crappy picture of it with his cell phone....its not that clear, but it's a picture nonetheless!:
~~~~~~~~~~~~~~~~~~~~~~~~~~~~~~~~~~~~~~~~~~~~~~~~
The other pizza was an
improv.
pizza that is supposed to be similar to a BBQ chicken salad.
In fact
I'm sure and improvement would be a drizzle of
ranch
dressing. I spread the pizza dough with BBQ sauce and topped it with canned chicken, a frozen southwestern veggie mix (broccoli, black beans, red bell pepper, corn), more corn, chopped tomato, and shredded cheddar cheese. This was SO GOOD, and my fiance couldn't keep his hands off it! I call it my Southwestern BBQ Chicken Pizza!