Last week for our "meal out" we decided to splurge and loll around Ala
Moana
(our biggest mall). It was fun, and the food was good, but don't even make me remember how much it cost cause I'd rather have a fine dinner at the price we paid. We First started with
pupus
and drinks at Mai
Tai's
, an open air lounge with an island feel. I had to wait forever for my fiance at a table that seats four, so I nursed a drink and finished off a whole mini-bowl of Maui onion potato chips (complimentary) while listening to Fiji live. I got a Li Hing
Mui
martini, and also a Tropical
Mojito
. The
Mojito
was good but the only thing that was
li
hing
mui
about the martini was the bland and poorly made
li
hing
mui
powder on the edge. Randy on the other hand got a really amazing apple-melon martini (which is cliche, I know) but had apple vodka,
midori
, and grenadine. It looked beautiful and I can't wait to try and duplicate this at home.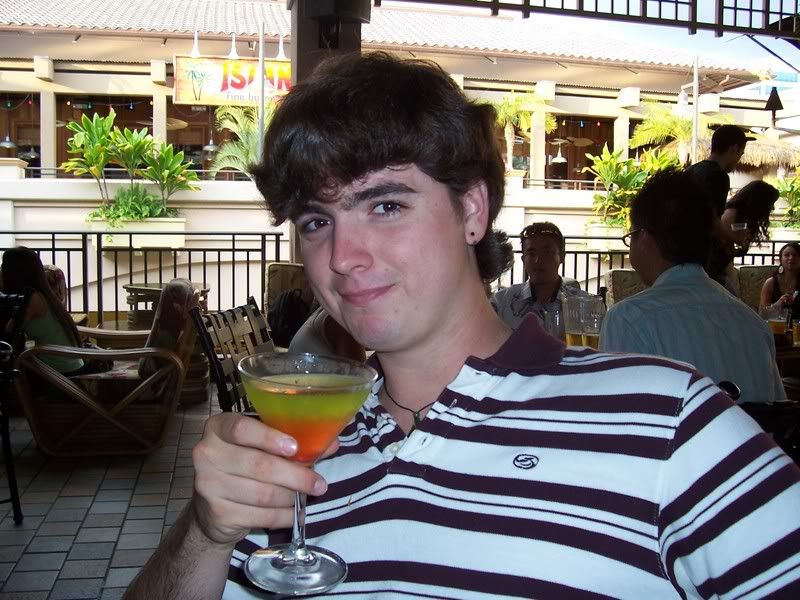 The appetisers we ordered were only five dollars each, and though they gave me a small tummy ache (too much fried stuff) they were really good. We ordered the Calamari
Fritti
that came with chili
ancho
sauce. (Actually two sauces, one opaque and spicy and another creamy one with a kick) Not only were there calamari pieces, but there were also fried chunks of red bell pepper, and some fried jalapenos. (We didn't know what they were until we took a bite...and realized they were peppers!
Yowza
!) The only thing I would have changed with this would be the size of the calamari. They were pretty tiny, and I felt that there was almost more batter than squid. The other appetizer we ordered was the recommended coconut shrimp. There were five shrimp on skewers, battered and dipped in toasted coconut. It came with a sweet and spicy
cajun
marmalade sauce. I liked them a lot, but I wished there had been more since we fought over the last one. I also enjoyed dipping the calamari in the
cajun
sauce meant for the shrimp. Breaking the rules, as always!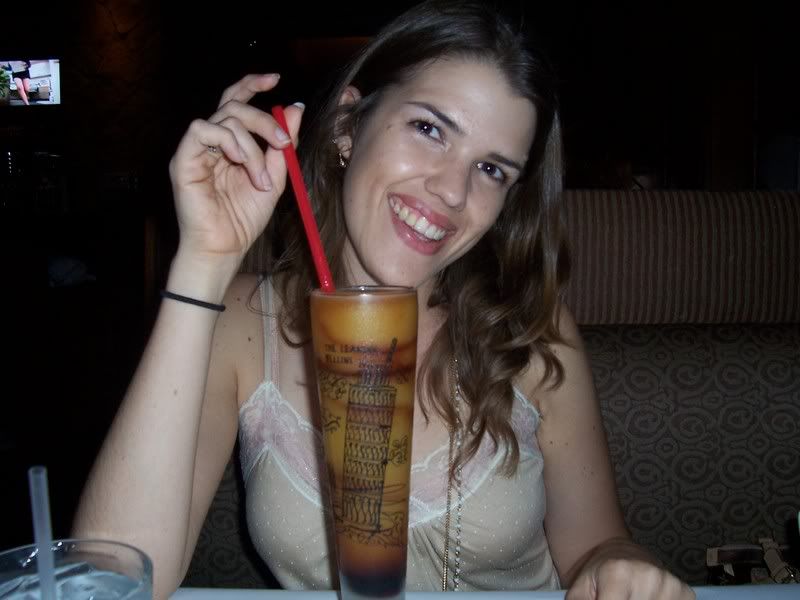 Next we went off to the Italian, Romano's Macaroni Grill for "dinner". I really wanted to go there because I've eaten there a couple times and have always got the
Insalata
Rossa
, and it has become one of my favorite
restaurant
salads (next to the
CPK
Waldorf chicken salad). I have been doing my research on California restaurants and I have come to find that all LA Macaroni
Grill's
don't have this salad on the menus! :( So I had to have it "one last time". Since we were getting full from the
pupus
and drinks we shared one of my favorite drinks in the world (so glad I found a recipe), the
Raspberry
"leaning" Bellini. This drink is a little
pricey
but it is pretty huge and seems to be the special of the restaurant. It comes in a beautifully etched glass with a sketch of the Leaning Tower of Pisa. This is a
Bellini
(champagne and peach puree blended with ice) with a swirl and bottom of
Chambord
(one of my fave
liquors
). It is rather sweet, but so good.
Then we shared my salad! It is a little on the sweet side; I love salads with fruit and sweet
vinaigrettes
. It has a base of mixed greens (mostly spinach), thinly sliced red onions, feta (?) cheese, sliced strawberries, shreds of chicken, and a strawberry
vinaigrette
. The chicken was on the cool side, which was alright because the rest of the salad was 'cold' items. The dressing drowns out the sharpness that would have belonged to the onions, and lends itself as a great sauce for the chicken. We had no problem scarfing this down. Unfortunately we had reservations at our next destination so we didn't have time to pop in the bathroom, which is my favorite part of the restaurant. They have an audio playing in the bathroom that teaches you phrases in Italian. It
definitely
beats the elevator music found in other restaurants!
We waited for our 8:30pm Jackie Chan's Kitchen reservation and since being addicted to all my fellow foodie
bloggers
there have been some curious cookies (?) dancing around in my brain, begging me to try them to find out what all the fuss is about. There was a small cafe near both restaurants (that served various tea concoctions and blends) and it had a couple of varieties of
macrons
. Now I always thought of macaroons when I see this word typed out, those coconut covered ball like cookies (that I don't care much for). But all the pictures that I have seen on other blogs look nothing like the coconut cookies. I HAD to see what all the hype was so I ordered one guava (though I would have liked to try their green tea one also). Randy and I split it and I was
surprised
to find the wafer like consistency gave as soon as I bit into it. Keeping these two light sandwich sides together was a thin spread of cream that had a light flavor of guava. Honestly, it was good, and I would like to eat some more, but it just isn't something that has me completely enraptured. Now to find the mystery behind the
madeline
!
Our last
adventure
lay at the Jackie Chan's viewing party for LOST that happens every
Wednesday
night. Jackie Chan's Kitchen is a Asian fusion restaurant with hip decor. It features the founder and namesake by Jackie Chan memorabilia and having
tv
screens around the restaurant play his movies at all times. Except for
Wednesdays
. Every
Wednesday
night they offer
pupus
with LOST inspired names and turn of the normal movies to simultaneously view LOST. At commercials there are trivia questions with prizes. We ordered a
mojito
(it was actually barely sweet and rather unpalatable) and a Jim and coke. And even though we were full, we HAD to try their sweet potato shoe string fries. Sweet potatoes, as fries???? What a genius idea! Sweet
potatoes
are some of my favorite veggies (10 times better than any other potato) and we just were dying to know what they were like in fry form. They came out thin and half crispy/half soft, just how I like them. The sweetness of the potato was really good, but there was too much salt that took away from the potato's taste. If I ever go again, I will ask for no salt, or salt on the side.
The coolest part of this night was watching lost next to one of the assistant directors of the show. It was neat having him watch our reactions and having him confirm some of our
curiosities
. Randy and I had a couple of debates going on about the lyrics to Charlie's
Driveshaft
song, "You are Everybody", and who it was that was the doctor that came in when Claire's mom was dying. Randy seems to think that Claire's dad is also Jack's surgeon father. Some of these debates remain, but others have been put to rest. We probably won't go back for another party, but I might at least attempt to make the sweet potato fries at home!