The last two Saturdays I have made visits to two new eateries, The Patisserie and Lox of Bagels (on Kathy's recommendation).
The Patisserie
This diner/bakery is located in Kahala mall and is a bakery by day, but by night they feature amazing, hard-to-find European dishes. Honestly, the atmosphere/location/inside isn't much at all, but who can blame them, they are mostly a bakery for the mall's day shoppers. It is fairly clean and well lit with a humble row of tables and chairs pushed to one side of the wall opposite a large display case of the daily bakery specials. On the evening we went there was a selection of cheesecake, chocolate "rum cake", bakalava, a few fruit tarts, sacher torte, and a couple other things. I had been searching for a place where I could try some German food without paying an arm and a leg at The Chef's Table at Hawaii Kai. I am so glad I came across this place that has not only German dinners and pasta, but Hungarian Gulash (something else I've wanted to try-I AM part hungarian, after all). The menu was small, but well priced with all entrees below $21 and all coming with a salad and fresh baked assorted rolls and butter. Another great thing was that though they did not serve alcohol, there wasn't a corkage fee and we grabbed a bottle of wine from the neaby Longs.
The bread was hot and fresh, and very good. One of them (I only had a bite) was almost like a sweetbread but I didn't get to investigate further because it was devoured right away by the other members of my party. The salad was average, no fancy ingredients, but the dressing tasted significantly of ginger and was very pleasant.
I was quick to be adventurous and ordered the "Chef's Specialty" (as quoted on the menu) of Hungarian Gulash. It came with fettucini noodles, tangy red cabbage, steamed vegetables, and a fanned pickle on top of the meat. I don't care too much for spicy/hot food, but this was an exception. The flavor of the meat behind the spice was so good, I couldn't stop eating it. The noodles helped to take the heat away from my tongue. I may just be a wuss, but all I know is that my nose was running by the time I switched plates after eating half of it. I also enjoyed the cabbage which had a nice flavor and I finished not only mine, but my fiance's as well. I would recommend this to anyone who likes spicy food.
My fiance's dinner was the winner. I absolutely loved his order of Saurbraten and this is without a doubt what I will order when I come back someday. Now being ignorant, I always thought a "braten" was a sausage, but this was no bratwurst (which I haven't had either). There were 4-5 slices of beef flank that had been marinated in a red wine sauce with rosemary, thyme, and bay leaves, then stove-top braised (took this from the menu). It was served in the savory gravy created by its cooking and was accompanied by a dollop of sour cream, spaetzle (a wonderfully flavored Parmesan tasting noodle), veggies, and more of that cabbage. This meat not only tasted incredible-similar to the Osso Bucco I had at Ka Ikena, but the meat just fell apart in my mouth. It was so wonderful that my fiance didn't even want to give it up.
Now for the desserts! My fiance got the rum cake and I ordered the sacher torte. They were beautiful to look at, but unfortunately taste-wise they were hit and miss. The sacher was very good and the rich chocolate ganache layer on the outside and inside complemented the moist cake that was the body. Now I didn't know that Sacher is traditionally made with apricot preserves (so I may have tasted that) but the man behind the counter said it had raspberry, and I definitely didn't taste that. The mini rum cake didn't taste like rum whatsoever and the chocolate outer layer wasn't even a ganache as much as it was that tasteless outer layer of a Hostess HoHo. Inside was a thick paste that was hard to swallow that didn't even taste much like chocolate. It had the consistency and slight taste of azuki bean paste, only not as sweet and thicker. Unfortunately I didn't get a picture because the owner was rushing us out; it was the store's closing time. Something that I did get a taste of that I would like to try more of next time would be the Rahm Schnitzel, a veal sirloin in cream sauce; but I think I'll skip the desserts.
Lox of Bagels
I was excited to come to this bagel shop on Sand Island Access road because of the great review that Kathy (a
Passion for Food
) gave it when she was home for spring break. When we arrived there was a line (of 3 people) in front of us and the few tables and chairs inside were already taken. They have a WIDE selection of bagels from a Hawaiian inspired pineapple bagel, banana and walnut bagels, blueberry bagels, to a few different puffs (circular bagels with fillings). I decided that we needed to try unique things (not your average onion bagel) and proceeded to order a blueberry bagel danish, a peanut butter puff, a chocolate puff, a strawberry guava bagel (with guava cream cheese), and a cinnamon sugar bagel (with cinnamon walnut cream cheese). They were all out of the banana walnut which was my first choice, but eventually was glad I had picked the sweet cinnamon bagel. Another gripe I had was that they didn't even ask if we wanted ours toasted even though they were clearly toasting the bagels of the customers before us. We took our bagels to Ward Centers with a quart of milk, but we didn't even make it before we were tempted by the brown paper bags and had to pull out the blueberry danish bagel.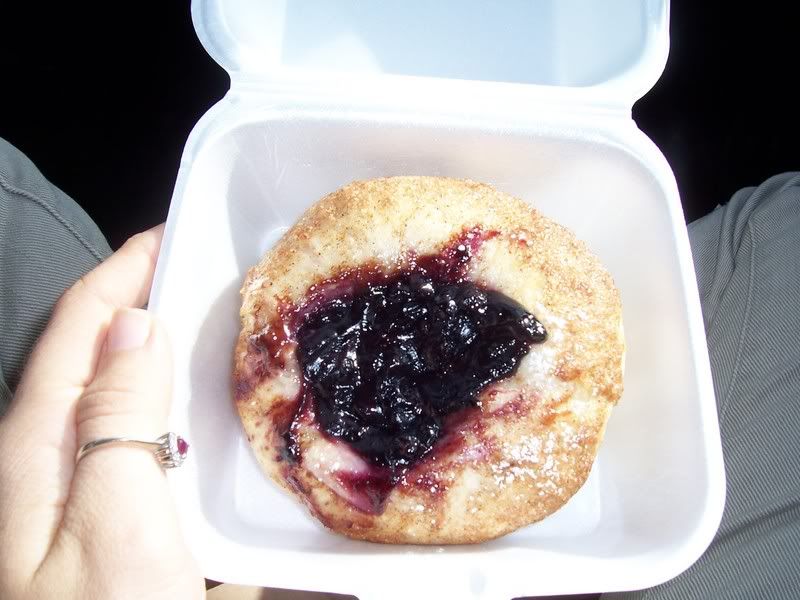 This was one of the better items, though it seemed a little strange to me. A deflated bagel ball (filled with cream cheese) was covered in cinnamon and sugar and had a good helping of blueberry danish filling in the deflated crater in the middle of the ball. This medley of flavors was a little too much for me I think. If it had been just the blueberry and cream cheese (maybe even the sugar-but NO cinnamon) I think I would have liked it better. But the flavor combination was somewhat more cacophonous and less harmonic. In the pastry's defense though, it was my fiance's favorite.
Next we tried the puffs. These are an ingenious idea and probably make bagel eating a lot easier (you don't have to deal with all the cutting and spreading). The first one I tried was the peanut butter puff that was plain bagel dough with a filling of cream cheese and melted peanut butter chips. This was really good, one of my two favorites in fact. Next time I have plain bagels I am definitely going for the peanut butter cream cheese combo. The two fillings hadn't mixed much, but they were softened and smooth when I took a bite. The peanut butter (I guess because of it being made with peanut butter chips) was slightly sweet and it almost tasted like something I would eat as a dessert. Being the chocolate lover I am, I was more than slightly chagrined in the chocolate puff. It seemed as if ordinary hot fudge or hershey's syrup was squirted in there with the cream cheese and I didn't care for this one much at all.
The bagels we had to save for lunch because we were so full on the first items. The strawberry guava bagel didn't taste like guava and the accompanying cream cheese wasn't much better. I thought that the pair would taste good together but the cream cheese didn't have much of a guava taste and it was barely sweet at all. I was disappointed in this and came to the realization that the philly commercial cream cheese with strawberry was tastier. The cinnamon sugar bagel turned out to be the right choice and other favorite of mine. The sweetness and flavor was that of cinnamon-sugar toast and the cinnamon walnut cream cheese went well with it (not being sweet in the least). I think that I probably wouldn't have enjoyed the banana walnut bagel with the cinnamon cream cheese because it wouldn't have been sweet enough.
Maybe my expectations were too high, or maybe I'm just used to more savory bagel options at home (onion bagels with plain cream cheese and lox), but I think it will be a while before I make a special trip out to this shop.