For those of you who don't live in Hawaii, I pity you. For those of you who do, and have not yet made it to Chef Mavro, I pity you as well. I hope that all of you at one time in your life will get to experience that which is the Magic of Mavro. For those of you who have been, with you I share this precious secret and I hope that your experience was in every way as wonderful as mine.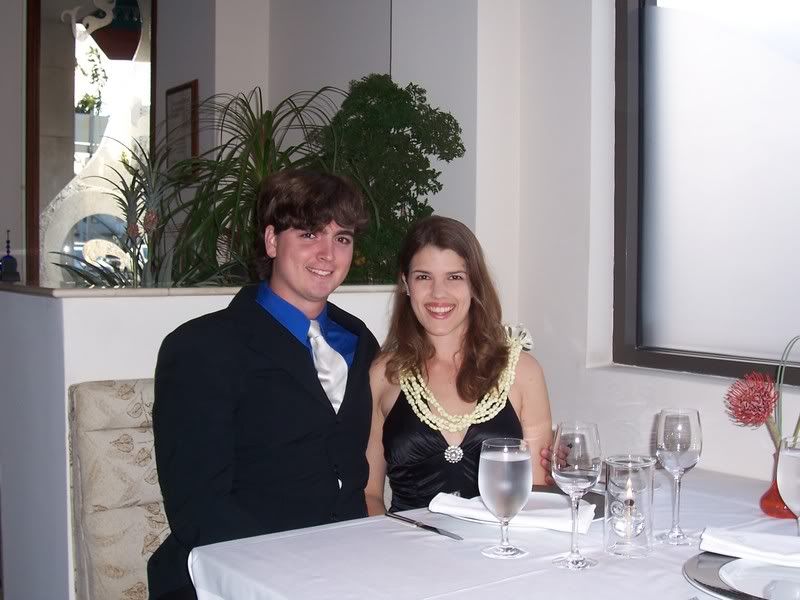 This restaurant is located on king street, right around the corner from a gay bar, and in the company of such restaurants like Jack in the Box, and mom and pop local food walk ins. This is very literally, a diamond in the rough. You'll know by the many month long waiting list and valet only parking that this is not a place to wear your beach clothes to. This is quite possibly the fanciest restaurant in the state and has been voted by Fodor's as one of the top ten restaurants in the world. It has also been named by Gourmet Magazine as the one place you should go if you had only one night in Honolulu. I was so excited about going, I could hardly sit still and the entire time I dined, I could NOT wipe the stupid smile of anticipation and childish delight off of my face.
Inside it is cozy, maybe less than 20 tables, and it is decorated in deep warm hues of rose, mauve, and pumpkin with splashes of green foliage against a stark white. The windows are frosted in an abstract design, preventing diners from seeing the average bustling street outside, and transporting them to a place where tastes are the main event. During the course of the evening, we were never once left ignored by a waiter as there were 5 different waiters attending to us throughout the night. They were very accommodating, polite, gracious, and everything a server should be. They were knowledgeable about the food, where it came from, how it was prepared, and about every wine that was paired with our courses. They said their knowledge came from the menu trial when the chef would cook up all the different menu items, and then as a staff they would taste several different wines with each dish and vote on the best pairing. These was never a moment that our water glasses were empty and it only took a few breaths before our cleaned plate was taken from before us.
Each season the Chef comes up with a new menu that features a 3-course, 4-course, and 6-course price fixe menu. There is also a possible Chef's Table dinner that features every single item from all the price fixe menus in an 11 course tasting dinner in miniature quarter portions. Wines are paired with each menu and since it was my birthday and the dinner was a gift from my dad (God Bless him), I did as he said and took the opportunity (that I may never have again) and splurged. Let's just say, the bill was well over $400 for my fiance and I; but it is something I will NEVER forget.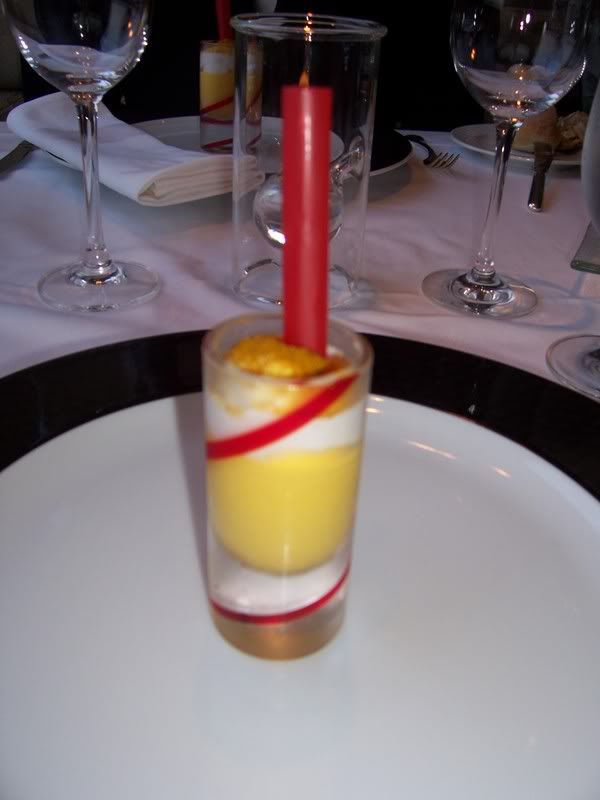 The first thing to arrive at our table was an amuse bouche of cool carrot soup with creme fraiche topped with a sprinkle of cumin powder on the top. This was served in an adorable little shot glass with a thick straw to "slurp" it up (yes they instructed us to slurp at a fancy restaurant). This was creamy and the tiniest bit sweet and the cumin gave a great kick at the end. Let's just say it was VERY slurpable. Another thing about the restaurant, each dish comes with a new plate and all the courses come previewed and paired with a lovely wine. (except the amuse bouche and palate cleanser)
The first "course" was a Beignet of Oyster flavored with Garam Masala, served with White Gazpacho, with a Tomato and Fine Herbs Relish. The gazpacho was a bit salty and I tried to figure out what it was..cauliflower perhaps. Whatever it was had a creamy texture, almost like a bisque, and the light drizzle of oil and crisp diced cucumbers on top balanced the flavors wonderfully. A beignet is usually a French doughnut found in New Orleans, but this wasn't sweet at all and the outside almost had the texture and look of a hush puppy. Inside was a warm juicy oyster that slid down my throat with aphrodisiatic passion. The relish beneath the beignet was made with tomato and herbs and maybe even some onions and tasted similar to the saltiness of lomi lomi salmon (a Hawaiian salmon salad dish with similar relish ingredients). The wine served with this was one of my evening favorites, it was a Cuvee Anne-Laure, 2005 Gewurtzraminer, from Alsace France. It was sweet but not overly so, and it went well with the oyster flavor.
For the second course we had Spiced Bigeye Ahi seared, with a Salad of Sumida Watercress, Hearts of Palm, Red Radish, and Garlic Watercress-Essence. This was one of my fiance's favorite dishes. The seared outside of the fish was dusted with curry powder that unless you put it in your mouth just right, overpowered the sashimi taste of the raw-melt-in-your-mouth-like-butter ahi. Eventually I got it right. There was a green pesto(I really should have taken notes instead of relying on my memory but I was so intent on savoring every moment that I didn't want to cloud it with worrying about every tiny flavor) and though I'm not a big watercress fan, I rather enjoyed the salad. The wine paired with this dish was a Grof Degenfeld, 2004 Muscat Lunel Tokaji, from Hungary.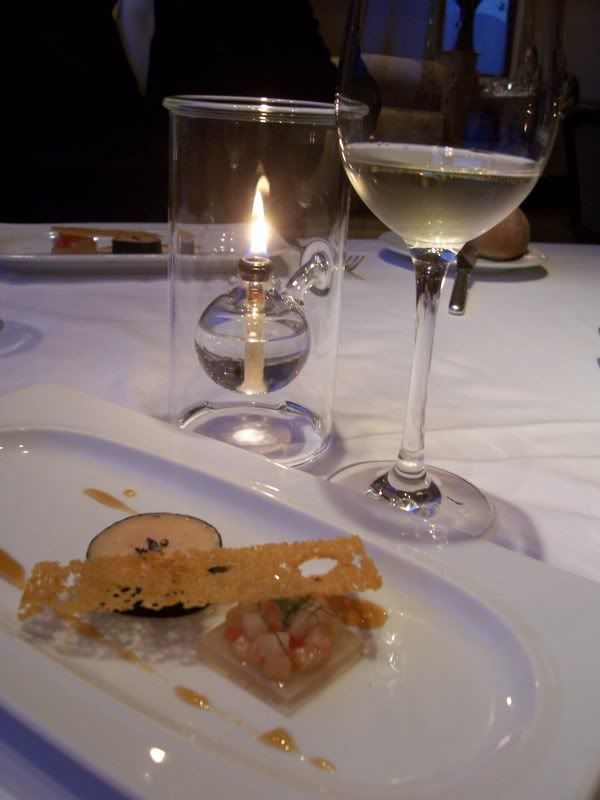 This meal was full of firsts for me, including my first time having Foie Gras. This course featured a Foie Gras Wrapped in Nori, Yuzu Kanten topped with a Ruby Grapefruit-Korean Pear-Shizo Pickle relish, and garnished with a Brioche Crust. Now the foie gras (said the waiter) was prepared in a slightly untraditional way (my stupid memory forgot what was the difference), but I was very surprised how much I enjoyed it. The nori wrapped around it gave it a slightly fishy taste that I didn't care for after a while, but the flavor and richness of the foie gras was incredible. It literally tasted like a meat version of butter and disintegrated likewise on my tongue, melting away in indescribable goodness. Yuzu Kanten was something else I had never tried and it was a jelly like substance that was very sweet and sour. It had a strong flavor and went well with the foie gras. The brioche was nothing more than a light crisp and gave a little crunch to the dish. The wine with this was a very sweet Dr.Pauly Bergweiler 2005 Riesling, from Mosel-saar-ruwer, Germany.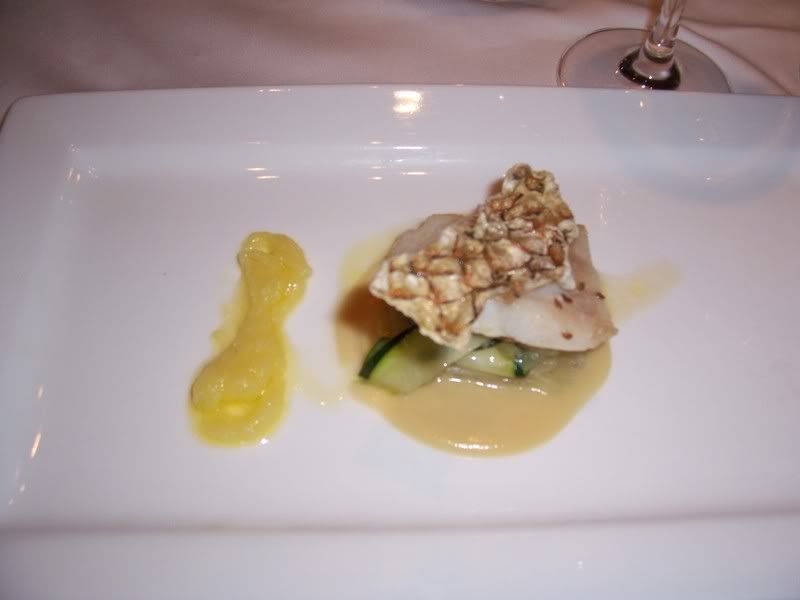 Course number four was a Day Boat Catch (sorry-blanking out), Fish Chicharron infused with Anise Seeds, Fricassee of Baby Fennel, Zucchini, Maui Onion, Lemon Thyme and a Greek Aioli. This was my least favorite of the two fish dishes (the next one coming up), its taste wasn't one I preferred and the texture was a bit like scallops. Though I don't love garlic, the sauce went well with fish and the vegetables underneath were some of my favorites. The fricassee of Fennel was a little bit salty, but tasted wonderful and the fish skin was crisp and interesting. The wine with this was a Chateau de Tracy, 2003 Pouilly Fume, from Loire, France.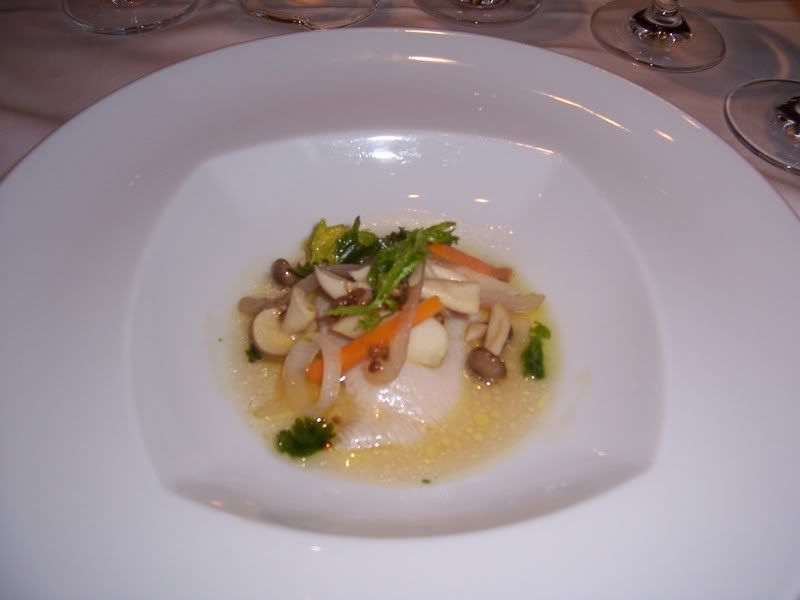 I loved this fish dish! It was a Confit Hamachi Escabeche with Baby Carrot, Turnip, Shallot, Marinated with Coriander, Garlic, Thyme and Chervil, with Fried Celery Leaves topping the dish. I have discovered that I adore ANYTHING confit, tomatoes, duck, etc., they are all so flavorful. In this case, the fish was in an acidic sauce that complimented the tiny mushrooms and vegetables perfectly. The fish fell apart when I cut into it with my fork and the crispy leaves of celery tasted delightfully like celery with a light-salty chip like taste. The wine that paired with this was a Black Bart, 2005 Marsanne Kabinett, from the Stage Coach Vineyard in Napa.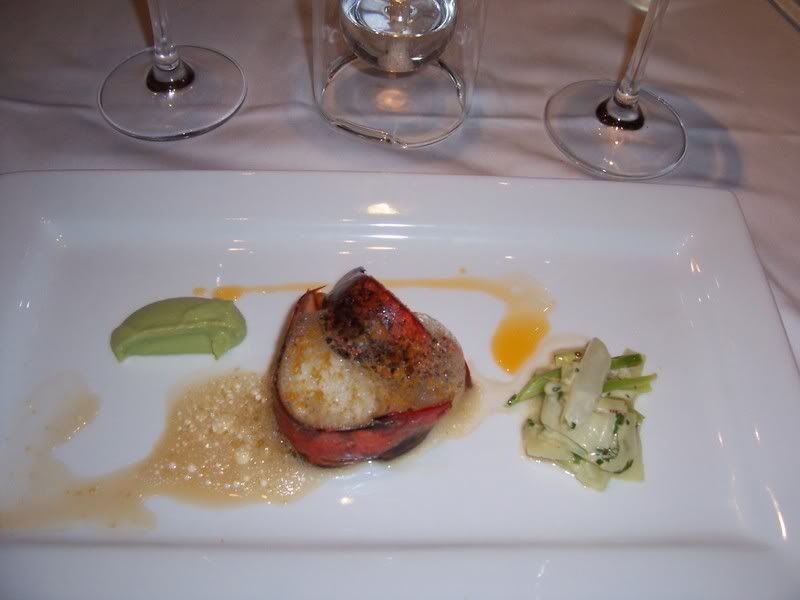 The last seafood dish was a Keahole Lobster a la Coque with Sauteed Leeks, Garlic Shoots, White Asparagus, Avocado Mousse, and Star Anise Lobster Essence. Ironically I liked the green parts on the plate better than the lobster, though I am not huge on lobster and crab. To eat this dish you had to pull the meat out of the shell. It was very good and the fun lobster foam gave an interesting addition and deflated in my mouth. The reason I loved the vegetables and avocado mousse was the very obvious lime flavour that came out in both dishes. It was a great contrast to the buttery lobster flavor with sharp citrus notes and the different textures of smooth mousse and slightly crunchy sauteed vegetables. The wine served was one of the sommelier rare wine selections, of a Domaine Paul Pillot, 2004 Chassagne Montrachet, from Burgundy France.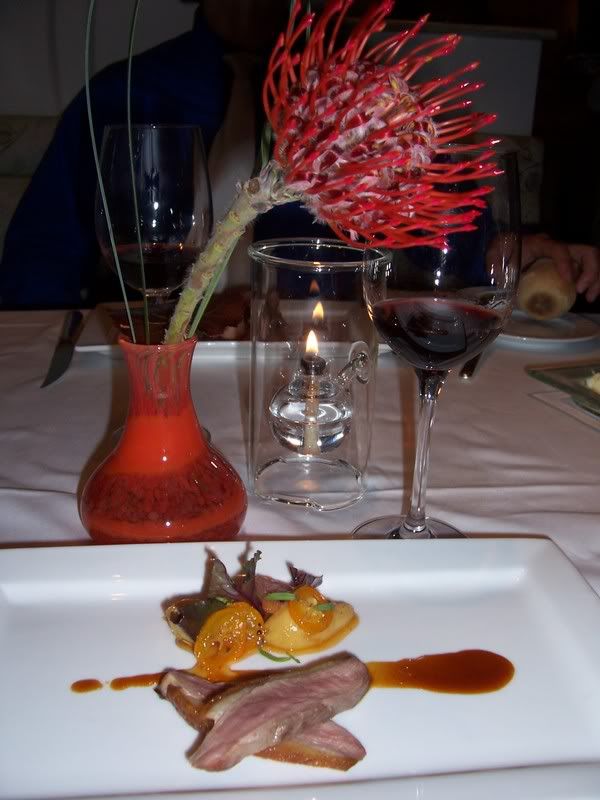 This was my second favorite dish and my fiance's favorite. It's funny because usually I would prefer duck (though I've only had it a few times) and he would fall for the beef. This outstanding course consisted of Roasted Sonoma "Canette" Duckling, with Gingered Baby Beets, Kumquats, Beet Tops, and Citrus Duck Jus. This was so amazing with a warm (as opposed to bright or sharp) citrus taste that was deeply sweet and came from the kumquats (another first for me). The sweet flavor of the beets really matched the citrus well and the warm, thin, tender strips of duck were a perfect marriage with the fruit salad. The small strip of skin attached to the duck gave a great texture to the meat. The wine was another sommelier rare wine selection of a Vincent Girardin, 2002 Pommard 1er cru "les epenots", from Burgandy France.
This course was without a doubt, the star of the night. It was indescribable in flavor and consisted of Snake River Farm Kobe-Style Beef, as Roasted Bavette and Braised Short Rib, Pancetta Brussels Sprouts, Truffle Accented Celery Root Puree, and a Pinot Noir Sauce. The short rib (pictured on the right) was juicy and was beautiful in flavor with the pinot noir sauce. In the center of the photo are the brussel sprouts, something ELSE I had never tried, and I liked them and the saltiness from the pancetta brought out the flavors in the beef. The BEST part is pictured on the left and consisted of a slow cooked cut of beef that fell apart in my mouth with the most seductive flavors imaginable. It sat upon a celery root puree and had a garnish on top that only furthered the incredible taste it had. The rare wine paired with this is a Jordan 2003 Cabernet Sauvignon, from Alexander Valley California. Lets just say I could have eaten this dish for the ENTIRE meal, and it brought me to a savory version of a chocolate mouth-gasm.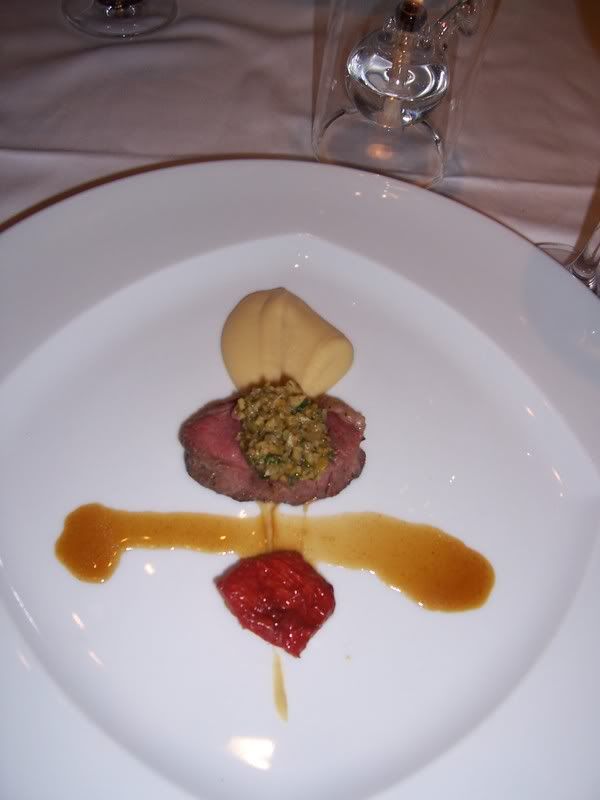 This was my other least favorite dish (that's not to say I didn't like it) but I don't particularly like the flavor of lamb itself. I let the waiter know about my aversion to this meat and though he said it was a cut of lamb that had less of the intense flavor, he would substitute a different dish if I didn't like it or didn't want it brought at all. But what kind of foodie would I be if I didn't take daring steps into the unknown. This was a dish of Roasted Mountain Meadow Lamb Loin with Spiced Green Olives, Chickpea Puree, and a Confit of Big Wave Tomato. I guess this was the chef's take on a Greek/Mediterranean inspired dish with the chickpea (hummos like) puree, lamb, and olives. The sharp olive flavor and smooth subdued chick pea flavor helped me to enjoy the lamb more than I would have if I had eaten it by itself. I saved the tomato for last and it was so soft, juicy, and sweet-savory from being cooked for 14 hours to perfection. It left an amazing taste in my mouth that went well with the rare 2002 Lalande de Pomerol wine from the Bordeaux region of France.
Sorry the picture is so dark. The last savory dish was a Big Island Goat Cheese Mousse with Fougasse Croutons, Granny Smith Tomato Marmalade, Basil Essence, and a Baby Greens Bouquet. This mousse had a very strong flavor that my fiance didn't particularly care for, but I liked when it was paired with each flavor in the plate. There were flecks of herbs in the mousse and the wafer thin croutons sandwiched it insuring a crunch in every bite. I loved the sweetness in the marmalade and it took away some of the unfavorable flavors of the Goat Cheese. The wine paired with this was a red wine of Tardieu-Laurent, 2001 Saint Joseph Vieilles Vignes from France.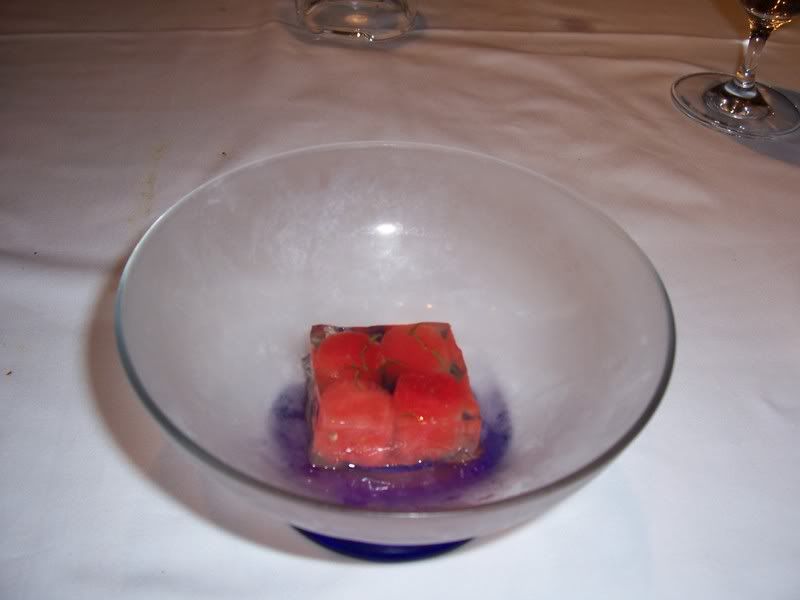 This palate cleanser came in a small chilled glass bowl and consisted of four fresh and juicy watermelon balls suspended geometrically in a champagne jelly with miniscule strips of mint. It was light and very refreshing.
Here were the three wines served with dessert. From the left we have my other favorite wine from the evening, a Coppo 2002 Brachetto D'Asti from Italy. It ironically was a wine that I had bought from The Wine Stop, a small wine boutique shop where I often go for tastings. I had bought it around Valentines day to save and open on my birthday. The nose is pure strawberries, as is the taste, light, sweet, and bubbly. The middle wine is from Blandey's, a Malmsey Madeira, aged 5 years from Portugal. It had a sweet spicy flavor that went well with its food pairing (to come). That final wine on the right was a 1995 Layon-Chaume, from Chateau Roulerie in the Loire region of France. It was very aromatic and sweet, and tasted a bit like a sherry I have, but stronger and richer with deep flavors of caramel and fig.
The first two (of many desserts) are shown here. On the left there is the Cherry Clafouti resting in an Orange Blossom-Almond Milk topped with Hawaiian Vanilla Infused Creme Fraiche. On the right is an adorable Lilikoi Malasada (the Chef's specialty dessert) with Guava Coulis and Pineapple-Coconut Ice Cream. I had never had Clafouti before though I have encountered countless recipes for various fruit variations (including a cherry one). It had the texture almost of a bread pudding, though softer, and there was a sweet brittle on top. The milk it was soaking in was lightly flavored with almond and only faintly sweet and balanced out the tart tang of the cherries. Malasadas are a Portuguese doughnut fried and rolled in sugar, that have a less cakey inner doughnut texture. This mini Malasada had a filling and flavor of Lilikoi (a tarter version of Passion Fruit), though not as much filling as I would have liked. The sweet guava sauce balanced out the likikoi and tart-sweet pineapple of the icecream. This was a perfect harmony of all the tropical flavors I love.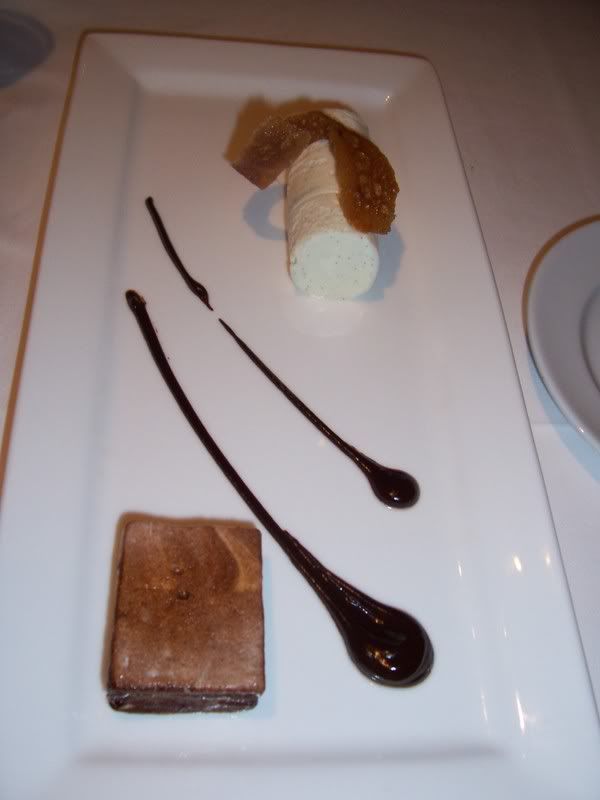 The other dessert on the menu was a White Chocolat-Raspberry Parfait accompanied by Chocolate Marshmallow, a Dark Chocolate Ganache Sauce, and an Orange Crisp atop the White Chocolate Parfait. This was my favorite dessert and though I didn't care much for the marshmallow (it was fine, I just wanted all the parfait) I adored the white chocolate raspberry and traded my portion of the marshmallow for Randy's bites of the raspberry partfait. The parfait was a carefully constructed log of mousse like white chocolate filled with a tart raspberry filling. This tart and mild sweetness was wonderful with the dark rich chocolate of the ganache. I savored every moment of this bite. According to Randy the marshmallow was denser than commercial marshmallows and had a very subtle chocolate taste.
This is not a good picture of the things to the right of the chocolate dessert which were complimentary candies: a Caramel, rose flavored Turkish Delight (I had never had this before), and two Dark Chocolate Truffles. The caramel wasn't intensely sweet but was milkier, the turkish delight was unbelievable in flavor and had a texture that was a mix between chichi dango mochi and jelly/gummi candy, and it dissolved in my mouth with a touch of rose. It was funny because as I was eating the Turkish Delight, I kept thinking of The Lion the Witch and the Wardrobe, "This way for your num nums.." The chocolate ganache truffles were positively sinful and tasted like the ones I made for Valentines day with Chambord, but without the raspberry flavor. Randy said that the ones I had made were better and though I am in love with Chef Mavro's cuisine, I would have to agree. I liked the truffles so much that I wished that I had saved them, to be the last rich taste in my mouth as I left. While I was in the bathroom, Randy mentioned this to the waitress and when I returned there was another set of the truffles to fulfill my wishes.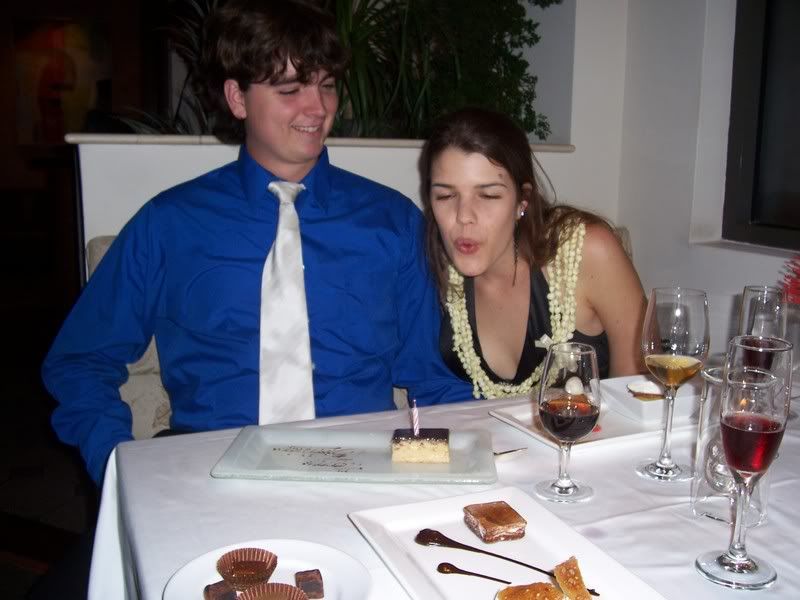 As an additional birthday treat, the waiters brought out an Opera Gateau Cake like dessert with a candle, and though they didn't sing, it WAS a surprise. I was having such a great time I had forgotten I was in a real restaurant and that restaurants do special birthday things. It was good but nothing like the other desserts and my favorite part of it was the dark chocolate topping. The only thing that could have made the night better would have been to meet the master behind all the culinary magic, but he had left the building earlier in the evening. I don't blame him...it took us an entire 3 hours to finish this meal. I LOVED it! Just to sit back and go through this adventure that changed with every course and left me breathless. I didn't check the clock once, and by the time we left I was pleasantly full and just a bit tipsy. Let's just say I will remember this my whole life long and it was one of the best birthdays EVER!