I am so behind in this thing its not even funny. I'm afraid though, that if I post something new, nobody will read the older posts...so don't forget about them. There are some lovely other posts in this blog, including a GREAT one about CHEF MAVRO.
I am just going to post some pictures of some great recipes I tried towards the end of April. And as you can see, I changed layouts...hope you folks don't mind...I wanted more room for pictures and with the other layout I had to squash them significantly.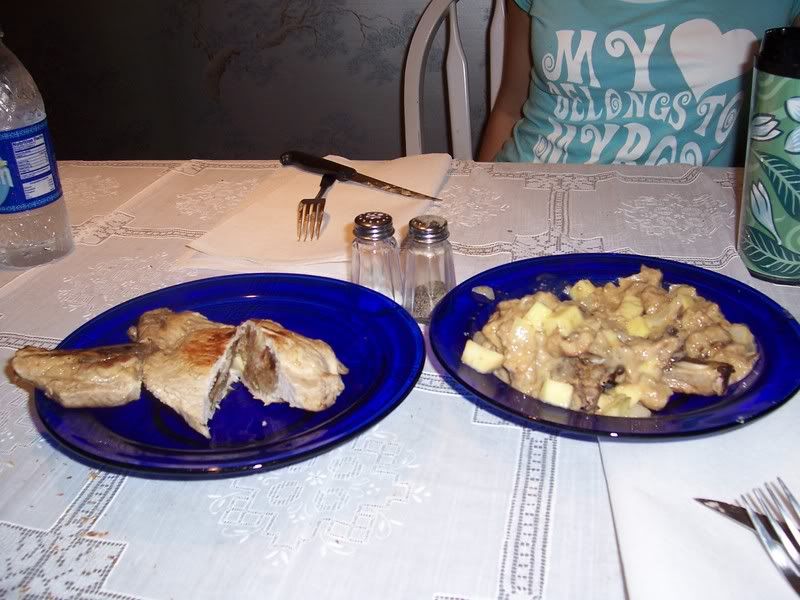 This is a photo of Apple Cider Stuffed Pork Chops with Apple and Cinnamon Raisin (the homemade bread I made) Stuffing. The plate on the left shows the inside of the pork chop and the plate on the right shows it smothered in that saucy dressing. This was really an outstanding recipe and the apple cinnamon raisin stuffing was just sweet and savory and perfect with the flavor of the chops. I only made two pork chops that night which is why my gravy was so chunky; I made the full amount of stuffing.
Pork Chops with Apple Stuffing
4 Boneless pork chops
6 Tblspn butter or margarine, divided
1 medium onion, chopped
3 slices cinnamon raisin bread, crumbled in large bread crumbs
1/2 a lagre apple, peeled and chopped (can use pears too...that might be good)
3/4 tspn salt
1/4 tsp pepper
1 egg, slightly beaten
1/2 cup water
2 Tblspn all purpose flour
1 cup apple cider
1) Cut pockets in chops, set aside. Heat a large skillet over medium heat; add 3 tablespoons butter. Add onion; saute until tender. Remove from heat. Add raisin bread, apple, salt, pepper, and egg; mix.
2) Spoon stuffing into pockets, reserving 1/4 cup. (If your pockets cut all the way through, secure unwanted holes with toothpicks.) Secure pockets with toothpicks or kitchen twine. Heat a large heavy skillet over medium heat; add remaining butter.
3) Add chops to skillet and cook for about 3 minutes per side. Add water. Cover and simmer, turning once, over low heat for 30 minutes or until chops are tender. Remove chops, keep warm.
4)Blend flour into skillet drippings. Stir in cider and reserved stuffing. Cooking, stirring continuously, until thickened. Serve over chops.
Serves 4
These were my birthday pancakes. Regular pancake batter with shredded apple and pear in the batter. With a little bit of Spiced Apple Butter on top, these were heavenly!
This was another amazing dinner (I'm always still surprised when something I cook turns out great). It is Apricot Chicken and next to it is the Double Corn Cornbread Muffins from
Peabody's site
. This meal was another one both sweet and savory and the slow cooker made the chicken just fall apart on my tongue; heavenly!
"Super-Easy" Apricot Chicken
Adapted from the Magazine "All You"
Ingredients:
12 or more (I probably used 16) dried apricots
8 medium chicken thighs (about 2 1/2 lbs)
salt and pepper to taste
2 Tbspn unsalted butter
2 Tablspn vegetable oil
1 onion, sliced
1 cup chicken broth
1)Rinse apricots and scatter them in a slow cooker. Pat chicken dry; season with salt and pepper. Melt butter in oil in a large skillet over medium-high heat. Cook thighs until golden brown (3-5 minutes per side). Brown in batches to avoid crowding skillet. Arrange over apricots in slow cooker.
2) Pour off all but 1 Tbspn of fat in skillet. Add onion and cook until just soft, 2 to 4 minutes.
3) Add broth to skillet; turn heat to high. Bring to a boil, loosening browned bits stuck to pan from chicken.
4) Pour contents of skillet over apricots and chicken. Cover and cook on low heat for 4 hours (or high heat for 2).
5) Carefully transfer thighs to a serving dish (they'll tend to fall apart easily); cover with foil to keep warm. Pour remaining contents into a saucepan. Boil, stirring often until reduced and thickened, about 10 minutes. Pour over chicken.
Serves 4
Per serving: 380 cals, 23g fat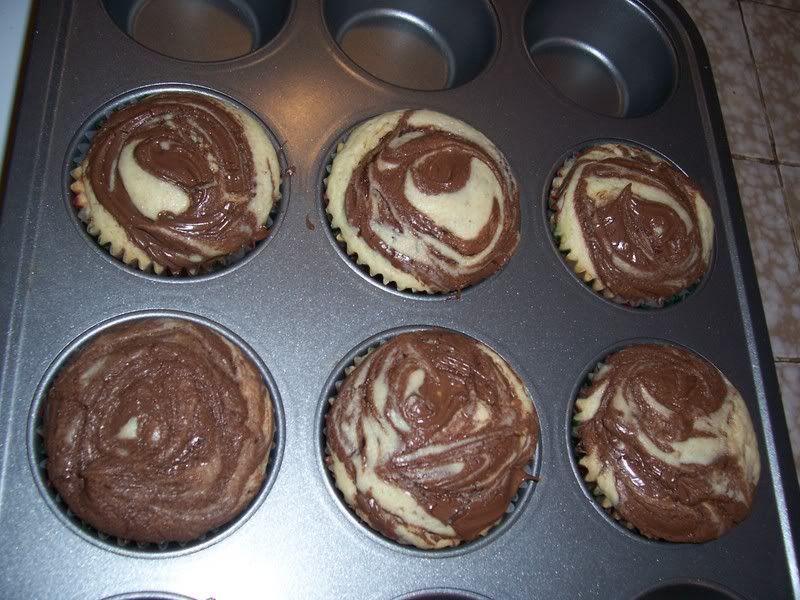 I also did a half recipe of the famous Self-Frosting Nutella Cupcakes for a bunch of birthdays (not mine) that were around the middle/end of April. These are great, not too sweet and the Nutella makes a great frosting. I'm assuming everyone loved them, but I only heard from Randy who managed to eat the first one. Almost every food blog recipe site has this recipe posted, but you can find a version of the recipe here:
BakingBites