Hello all, ready for some more delayed and belated recipes? I love muffins, and always like experimenting. Several weeks ago I was browsing through my recipes as I always love to do, and found a lemon poppy seed bread recipe. I had just bought some poppy seeds and decided to give it a go, but I wanted personal sized servings, so I instead turned the bread into muffins. Because I used the same recipe, the muffin was more dense and less moist and fluffy than regular muffins, but they still were very good. I got inspired by another food blog to put half a strawberry in each before baking but wasn't prepared for the surprise explosion that resulted in holes through the top. They were still tasty and I look forward to modifying the recipe someday.
The next muffin is now famous throughout the food blog circles. It is called the Snickerdoodle Muffin but now affectionately renamed The Refund Muffin.
Peabody
, being the most amazing baker she is, originally posted these delectable muffins. To everyone's shock, someone had the audacity to write Peabody saying that it was a horrible recipe and they wanted a check for the money they spent making it!! I am now submitting my official approval that these muffins are THE BEST and that person was completely out of their mind! Peabody deserves all the credit for these muffins so please
visit her site for the recipe
. They were moist, cakey, and tasted exactly like the beloved Snickerdoodle cookie. My whole family adored them!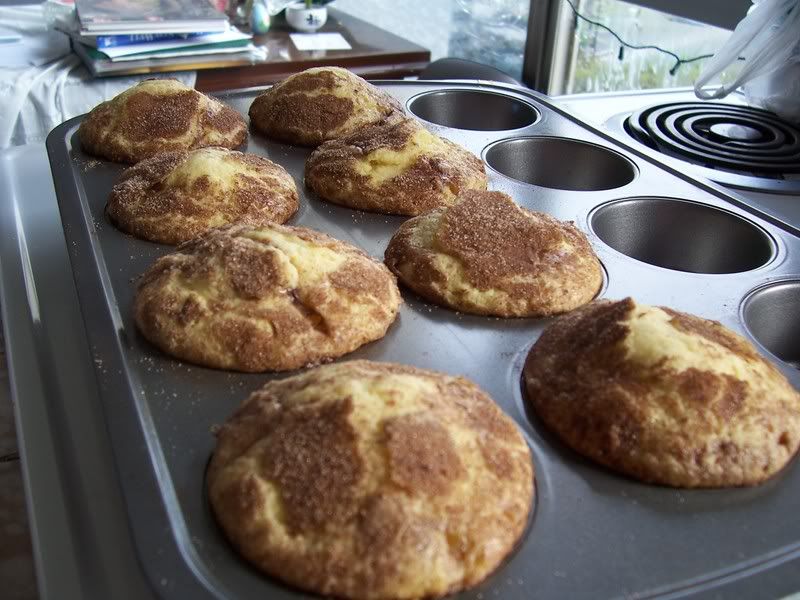 ~~~~~~~~~~~~~~~~~~~~~~~~~~
I must post another recipe on here that fits the "breakfast" theme. It is a great recipe of a dish I see popping up in every cooking magazine, Blueberry Ricotta Pancakes. These are made with a chunky blueberry sauce and are very healthy, not to mention delish! The ricotta taste didn't stand out but kept the dish soft with almost a creamy texture inside, and the blueberry sauce had just enough sweetness.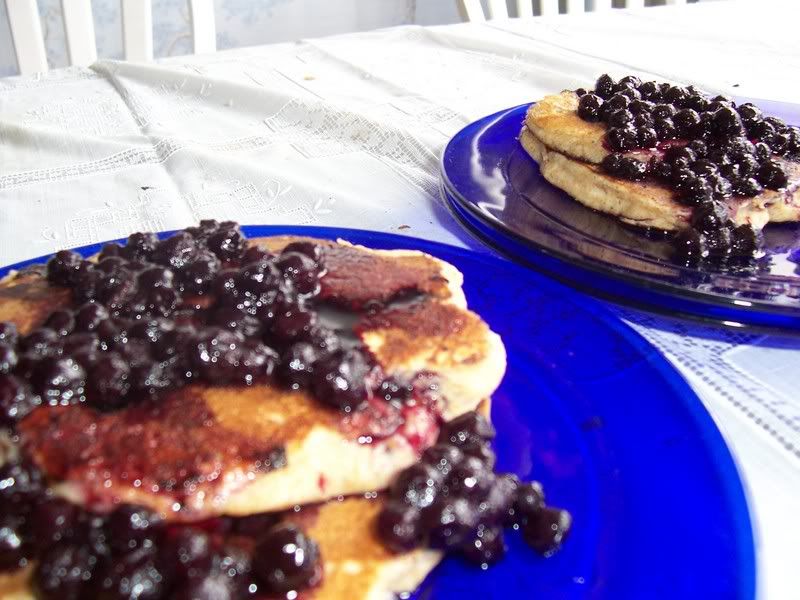 Blueberry Ricotta Pancakes
1/2 cup whole wheat flour
1/4 cup plus 2 Tablespoons all-purpose flour
1 teaspoon sugar
1 teaspoon baking powder
1/4 teaspoon baking soda
1/2 teaspoon freshly grated nutmeg
3/4 cup part skim ricotta cheese
1 large egg
1 large egg white
1/2 cup nonfat buttermilk
1 teaspoon freshly grated lemon zest
1 Tablespoon lemon juice
2 teaspoons canola oil divided (I used extra virgin olive oil)
3/4 cup fresh or frozen (not thawed) blueberries
1) Whisk whole wheat flour, AP flour, sugar, baking powder, baking soda and nutmeg in a small bowl. Whisk ricotta, egg, egg white, buttermilk, lemon zest and juice in a large bowl until smooth. Stir the dry ingredients into the wet ingredients until just combined.
2) Brush a large nonstick skillet with 1/2 tespoon oil and place over medium heat until hot. Using a generous 1/4 cup of batter for each pancake, pour the batter for two pancakes into the pan, sprinkle blueberries on top of each pancake, and cook until the edges are dry and bubbles begin to form, about 2 minutes. Flip the pancakes and cook until golden brown, about 2 minutes more. Repeat with remaining oil, batter, and berries, adjusting the heat as necessary to prevent burning. Keep finished pancakes warm in a 200 degrees F oven if desired, while cooking the rest.
Makes 4 servings, 2 pancakes each
Chunky Blueberry Sauce
(good on yogurt, ice cream, or cottage cheese)
2 cups fresh or frozen (not thawed) blueberries
1/4 cup honey
1 teaspoon freshly grated lemon zest
2 tablespoons lemon juice
Stir together blueberries, honey, lemon zest, and juice in a medium saucepan. Bring to a boil; reduce heat to maintain a simmer and cook, stirring occasionally, until thickened, at least 15 min. Let cool for 10 minutes; serve warm.