A couple weeks ago, it was my step-mom/Godmom's birthday. And every since I was little I have remembered that she loved banana cream pie. If ever we were at a restaurant and she felt like dessert, that's what she would order.
Now that I am cooking and baking I thought it would be a great surprise to show her that I remembered that. I found a recipe I liked on Recipezaar, but I wanted to make it my own, so I incorporated her other favorite, DARK CHOCOLATE. I came up with a dark chocolate bottomed banana cream pie, and then put ANOTHER twist on it by using apple bananas (shorter, more tart version of a banana). And then, I decided this really need to be a banana cream pie, not just a cream pie with sliced bananas, so I mashed in a banana with the homemade cream pudding.
Everyone RAVED about it. Unfortunately it had been refrigerated overnight with the whipped cream on top so it was oopy goopy when we tried to serve it, but it tasted heavenly. Here's the recipe for you to try: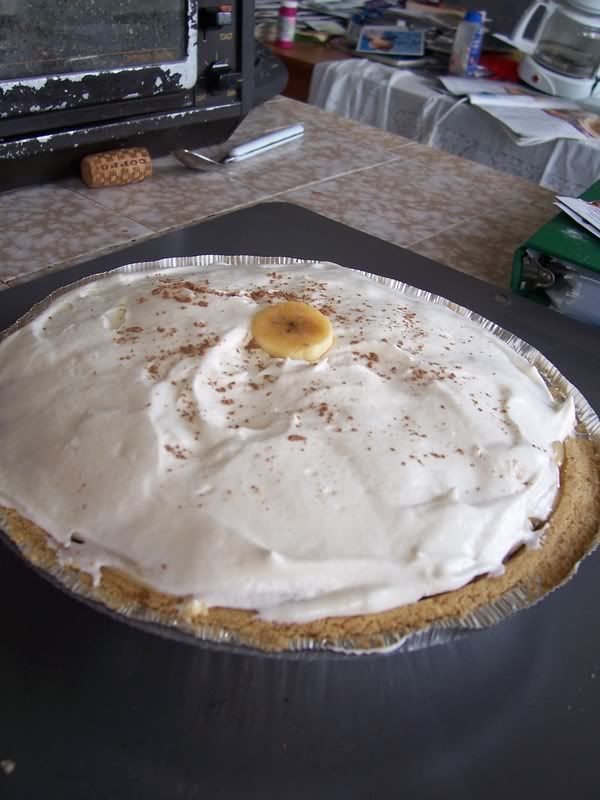 Black Bottom Apple-Banana Creme Pie
Makes 6-8 Servings
3/4 Cup sugar
1/3 cup AP flour
1/4 tspn salt
2 cups milk (I used skim)
3 egg yolks, lightly beaten
2 Tblspn butter or margarine
1 tspn vanilla extract
1 ripe, large banana
4 firm apple bananas
1 graham cracker or Nilla premade pie crust (or 9 in baked pie shell)
Favorite Ganache recipe
tub of cool whip or whipped cream to garnish
1) In a saucepan, combine sugar, flour, and salt; stir in milk and mix well.
2) Cook over medium heat, stirring constantly, until the mixture thickens and comes to a boil; boil for 2 minutes.
3) Remove from heat. Stir a small amount of cream mixture into egg yolks to temper them; return all to saucepan.
4) Cook for 2 more minutes, stirring constantly; remove from heat.
5) Add butter and vanilla; mix well so that butter melts, and allow to cool slightly. Mash 1 regular banana and mix well into cream mixture.
6) Make ganache, allow to cool and pour and spread over pie shell so bottom and sides are covered. Slice the apple bananas and place evenly over the chocolate in pie shell. Pour cream mixture gently over bananas.
7) Cool in refrigerator until more stable. Before serving garnish with whipped cream or cool whip, an apple banana slice, and a shake of cocoa powder.
8) Refrigerate any leftovers...but I can promise you there won't be!