Summertime really is time for pies. I mean my mother didn't cook much, and as I was growing up, the only real time I had pie was around Thanksgiving, but lately I've seen pie recipes blooming up all over! I guess for you people on the mainland, that's because spring and summer is berry season, and what's better for pies than berries...right? But here in Hawaii, it costs us at least 5 dollars for a tiny pack of fresh blueberries, and since we have all these tropical fruits here, we don't really go with the berry/pie craze like people on the mainland do.
With that said, I don't think I have ever tried strawberry pie. A restaurant here is famous for them, but when I went there to try it, they hadn't made any because it wasn't strawberry season (see how much I know about berries?!). So before I could replicate my sub-par trip to try it, I cam across a lovely recipe at Claire's blog,
Cooking is Medicine
.
Because I gave you the link above, I'll just let you go to her site to get the recipe, but she not only gives you the recipe for the pie, but for the crust as well (unfortunately my crust was pre-made)! I LOVED this pie and won't be going to any restaurant to have a strawberry pie, for I am a firm believer (even though I've tried just this one) that THIS is the best strawberry pie EVER! I loved the lightness of it and I did use diet 7-up, though I can't remember if my jello was sugar free. Anyways, for a great lip-smacking summery treat, try this recipe. I might just do it again because Costco has a big sale on strawberries!
--------------------------------
For a Savory Pie....
I turned to my Better Homes and Gardens - 75 Years of All Time Favorites cook book I found at a garage sale (so far it's supplied DELICIOUS recipes). This recipe debuted in the magazine in 1974 and though it doesn't use very many fresh ingredients, it still tastes amazing. I tinkered with it a big, and the recipe you see below is my finished product. I can see this becoming a favorite in a family with kids, but we didn't have to have kids to mark this as a repeat! Let's just say in a family of three, I was looking forward to having some as leftovers, but by the time I got home from work, it had disappeared!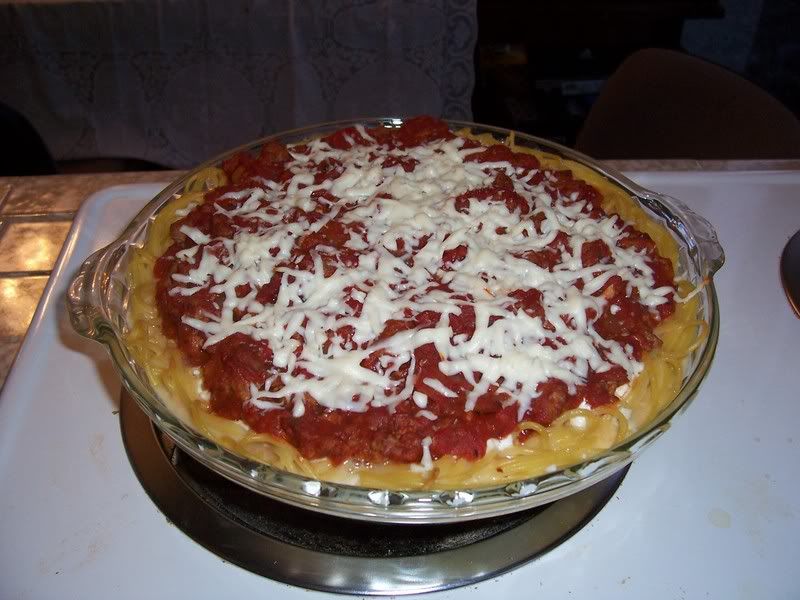 Spaghetti Pie
Ingredients:
6 ounces packaged dried spaghetti
2 Tblspn. margarine
1/3 cup (or more) grated Parmesan cheese
2 well beaten eggs
1 lb ground turkey
1/2 cup chopped onion
1/3 cup chopped green bell/sweet pepper
1 cup (7 1/2 oz can) tomatoes, cut up
1 6 oz can tomato paste
1 tsp. sugar
1 tsp. dried oregano, crushed
1/2 teaspoon garlic powder
dash of salt (to preference)
1 cup small curd cottage cheese
1/2 cup shredded mozzarella cheese
1) Cook the spaghetti according to package directions; drain (should have about 3 1/4 cup cooked spaghetti). Stir margarine into hot spaghetti. Stir in Parmesan cheese and eggs. Form spaghetti mixture into a "crust" in a buttered 9 to 10-in pie plate.
2) In a large skillet, cook the ground turkey, onion, and sweet pepper until meat is brown and vegetables are tender. Drain well. Stir in the undrained tomatoes, tomato paste, sugar, oregano, garlic powder, and salt. Heat through.
3) Spread cottage cheese over spaghetti mixture in pie plate. Top with the meat mixture. Bake, uncovered, in a 350 degrees oven for 20 minutes. When done baking, sprinkle mozzarella cheese over top and bake 5 minutes more, or until cheese on top melts.
Makes 6 servings