If ever you have too many apples, just look for recipes online. They are such a versatile fruit and bake so well! Here are a couple things that helped with my apples.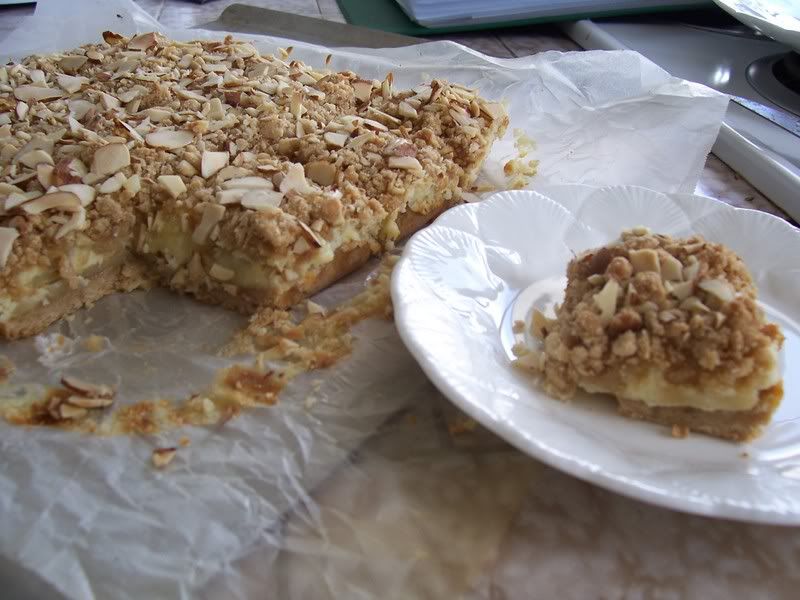 These Almond Apple Bars were something I saw on several foodie blogs and I had to try it. The bottom crust of almond flavored shortbread-like cookie was nice and crunchy and contrasted with the creamy cheese layer. I don't think I used enough cream cheese, but it was still very good with the soft cooked apples and nutty almond topping. It was very crumbly when I cut it though and I lost a lot of the topping.
You can find this recipe for apple bars at
Alpine Berry's blog.
------------------------------------------------
This next dish, a rich apple pudding pie was first made in the fall/winter and my fiancé and I both fell in love with it. It is a mix between a streusel crumb topped apple pie and a warm bread pudding. I highly recommend this as a comfort food, but only if you have people to share it with…because I know how easy it is to consume with only three people.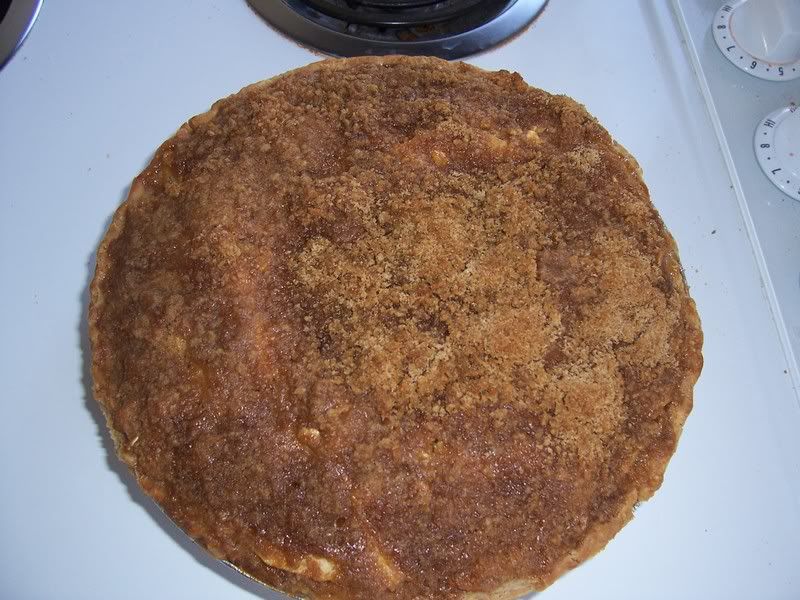 Apple Pudding Pie
Adapted from a Better Homes and Gardens Recipe
Ingredients:
1 unbaked 9-in pastry pie shell
3 eggs
1 cup applesauce
1/2 cup fat-free vanilla yogurt
1/2 a cup granulated sugar (or 1/4 cup sugar, 1/4 cup sugar substitute Splenda)
1/2 cup packed brown sugar
1/3 cup rolled oats
1 tsp. ground cinnamon
4 slices bread cut/tore up (about 3 cups)
2 medium apples (I used Braeburn or fuji)
1/4 cup packed brown sugar
1/4 AP flour or whole wheat flour
2 tablespoons margarine
Directions:
1) For crust, line unbaked pie shell with a double thickness of foil. Bake in a 450 degrees F. oven for 8 minutes. Remove foil. Bake for 4 minutes more. Remove from oven. Reduce oven temp. to 350 degrees.
2) For filling, peel, core, and slice apples. In a medium mixing bowl stir together eggs, applesauce, yogurt, granulated sugar, 1/2 cup brown sugar, oats, and cinnamon. Stir in bread and apples. Set aside.
3) For topping, in another mixing bowl stir together 1/4 cup brown sugar and flour. Cut in butter until mixture resembles coarse crumbs. Stir in nuts. Pour filling into the prepared pie crust and sprinkle topping over filling. Cover edge of crust with foil and bake for 30 minutes. Remove foil and bake for 30 minutes more or until top is golden and fruit is tender. Serving suggestion, serve with vanilla ice cream.
Makes 8 servings