I have never been to Cuba, or had Cuban food (except for maybe a homey version of Cuban Chicken), so I couldn't wait to come here and expand my horizons.
Inside the tiny restaurant are maybe 10 tables with chairs and a bar, enveloped in deep earthy red, gorgeous and funky artwork, and high ceilings. Some of the tables are bar tables with tall rattan chairs that give the casual feeling of being out doors at a tropical Cuban cafe. There are many different art pieces including several different brightly colored renditions of Mary, and bold paintings of an African feel. On two televisions on opposite sides of the restaurant are black and white slide shows of personal pictures of Jesus Puerto, the owner and founder of this restaurant.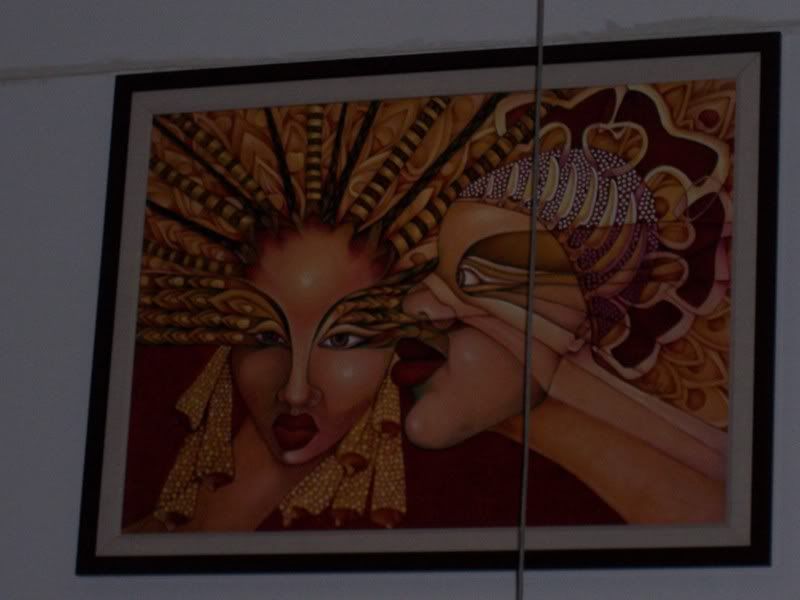 His story, written out on the backs of the menus, is nothing short of amazing. It tells of his dream of owning a restaurant getting crushed when he was diagnosed with spinal meningitis and told that he would either die, or lose his sight or hearing. Miraculously he recovered and set out to do various volunteer work to make something of this life he was grateful for. While spending time in the Peace Corps he worked with various restaurants which eventually gave him the skill and drive to realize his dream of starting a restaurant. This is his second location, his first being in New Haven, Connecticut.
While we were eating, a nice group played live music and after asking for suggestions, played our request of Santana's "Smooth". I wasn't facing the window, and after a few drinks the guitars and ambiance had transported me to somewhere completely different.
We began the meal with drinks, a Mojito for my dad (that was too strong for my taste) and an enjoyably fruity El Presidente for myself. We also ordered the Soul Sampler as an appetizer. This came with 'Deviled crab', fried crab meat in a crispy shell; Emapanadas, one beef and one veggie; and some 'Camarones Bailando' or dancing shrimp marinated in a Cubano-chinois sauce (not pictured). We each had our favorites, mine was the empanadas drizzled in a slightly sweet sauce, my father enjoyed the crab, and Randy is always the shrimp lover.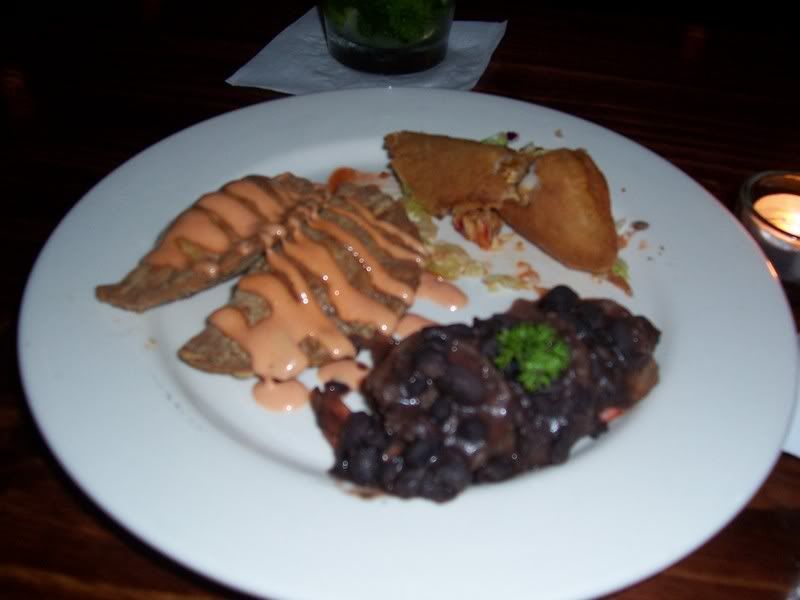 We each ordered different entrees promising to share. I saw many things on the menu that came with some type of fruit relish and I love the idea of a sweet fruity sauce on a savory entree. I had my eye on the Pollo Soul de Cuba (that I had heard great things about), but because someone else wanted it I went for the fish cooked with the fresh mango salsa served over white rice with black beans and fried bananas. The fish had a good flavor and though I was really excited about the mango salsa, I was dismayed to taste the strong flavor of cilantro. As some of you may know...cilantro is my nemesis, I can't stand the flavor, so I had to hand this dish over to my father. It was fate too because both the other dishes were awesome! My favorite part about my plate and everyone else's were the fried bananas. They were so amazing, crispy on the outside and sweet and soft on the inside. I thought it was such a clever plate garnish.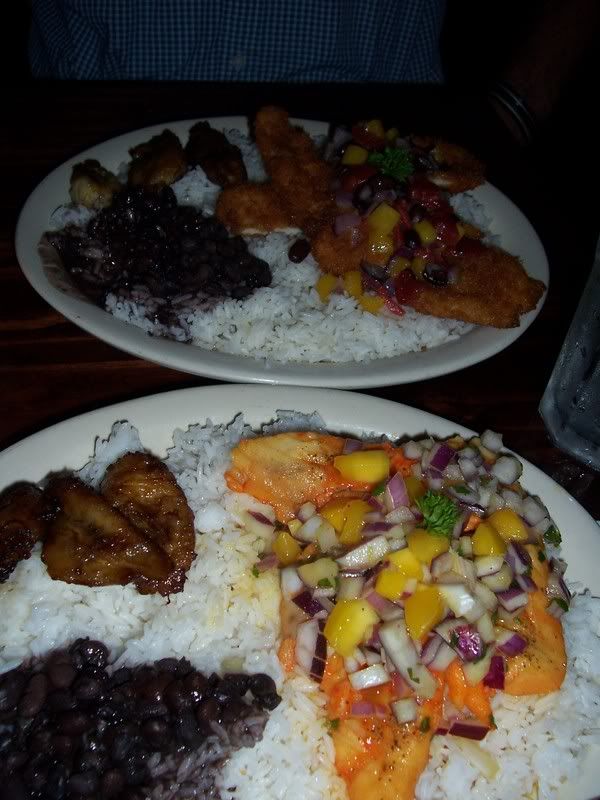 Randy got the Pollo Soul de Cuba, and the plate was just as bright and colorful as mine was. His entree consisted of a breaded and fried chicken breast topped with a beautiful salsa of mango, guava, pineapple and rum. Though the salsa was delicious and gave texture to the dish, the different flavors didn't stand out against one another, but blended in a sweet relish. I thought that because it was fried it would be oily and fatty, but instead it was good and crisp. Each dish came on a bed of fluffy moist rice that was way too much for anyone to each but gave a nice background for the colors to pop out on and soaked up the juices and flavors nicely.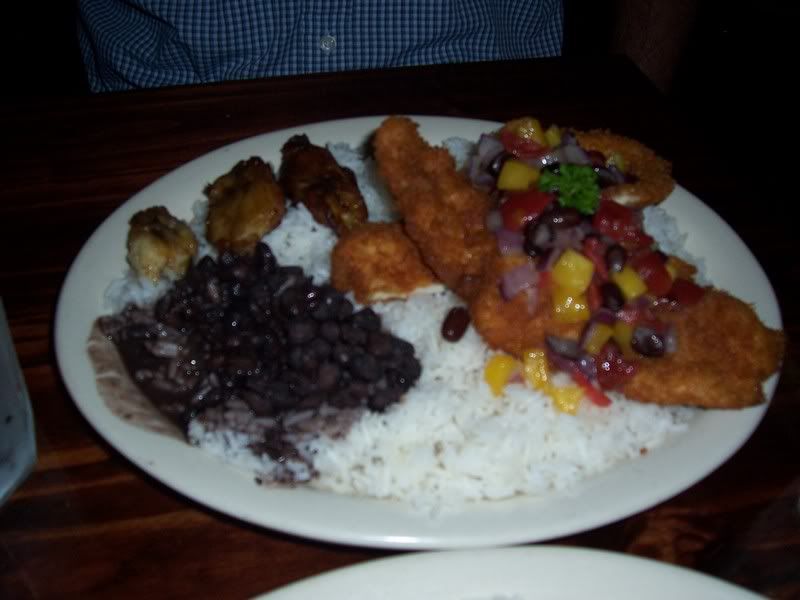 The dish my father ordered was (I think) the fricassee de pollo, another chicken dish that included chicken marinated and sauteed in green peppers, onions, and Spanish olives and stewed with spices. This meat had the best flavor of all the dishes despite the lack of tropical fruit. It was moist and a bit oily, but very tasty with a nice golden color. We took this dish home, but it was savored the very next day.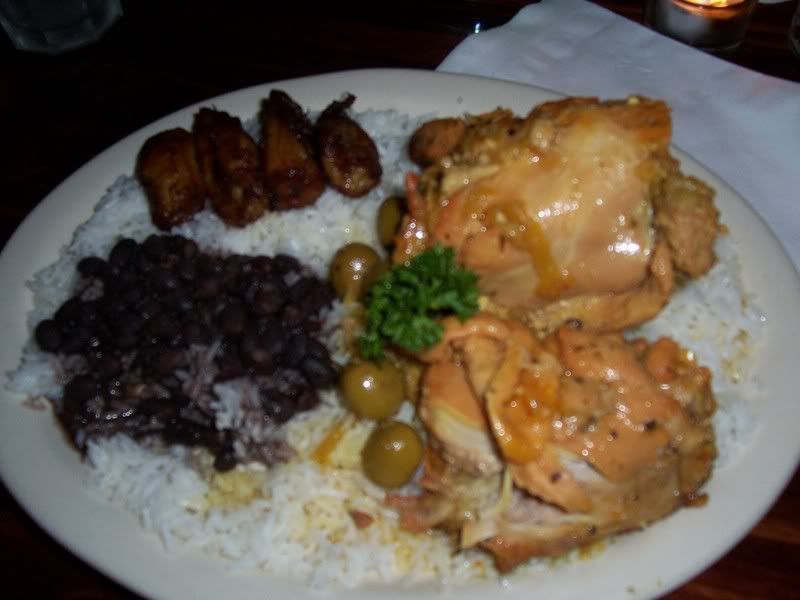 For dessert we indulged and got two dishes and a dessert drink. The drink was made from one of my favorite liquors, Amarulla, a creamy sweet drink made from the African Marula fruit tree. The drink was silky and satisfying, and though it was pricey I would recommend trying it at least once. My dad got a key lime cheesecake slice that was tart and rich, and Randy and I shared the guava empanadas. The empanadas were warm and had a smooth and sweet filling of guava puree, but I wish there had been more filling, or a bigger empanada. It came with plantain rum ice cream that was barely sweet but very refreshing. Neither flavor (banana or rum) really popped out, and that was a little disappointing.
The prices for dinner are pretty reasonable but I think I would come back for lunch instead. It was a nice experience with the combination of the great service, exotic ambiance, and live music. I would recommend this place to anyone who is curious about the Cuban experience.