For a friend's birthday a couple months ago- yeah that's how behind I am. I chose to make a chocolate
tiramisu
cake (because that is one of her favorite desserts). But when I got into the recipe, I found that it didn't call for any alcohol! What? That's the whole fun of
tiramisu
! (I'm a big fan of the
Tiramisu
at
Bucca
Di
Beppo
that is so alcohol laden that you get up from the table almost feeling tipsy.) So I decided to experiment.
I added about a shot (maybe more) of
kahlua
to the molten lava cake mix and a tablespoon of rum to the "frosting". I got this recipe from an All You April issue - and it was awesome! Not too rich for my tastes but it was for an 18 year
old's
birthday so some of them thought it was a little too rich and alcohol heavy. Maybe for an adult new years party it would be good, or you could omit the alcohol all together. I baked it towards the longer amount of time suggested so the outside of the cake was a little tough, like the crust of a brownie. For a softer cake and more molten inside, I suggest using the shorter end of the baking time window.
Rich Chocolate

Tiramisu

Cake
1 package (9.4 oz - I think mine might have had more) chocolate molten lava cake mix, prepared according to package directions (but not baked)
2 oz of Kahlua added to prepared lava batter
8 oz light cream cheese
1/4 cup strong coffee, brewed then cooled
2
Tblsn
sugar
1
Tblsn
rum
White chocolate and dark chocolate for garnish
Directions:
1) Preheat oven to 350 degrees F. Grease an 8-in
springform
pan and line bottom with parchment paper.
2) Pour prepared lava cake batter into pan. If separate fudge sauce packet is in box, squeeze sauce onto batter. (Mine did) Bake until just done, 25 to 30 min. Cool completely on a wire rack. Run a knife along inside of pan to loosen cake. Remove pan sides from cake and gently pull parchment to slide cake off pan bottom. (I just left mine on pan bottom for fear of breaking the cake)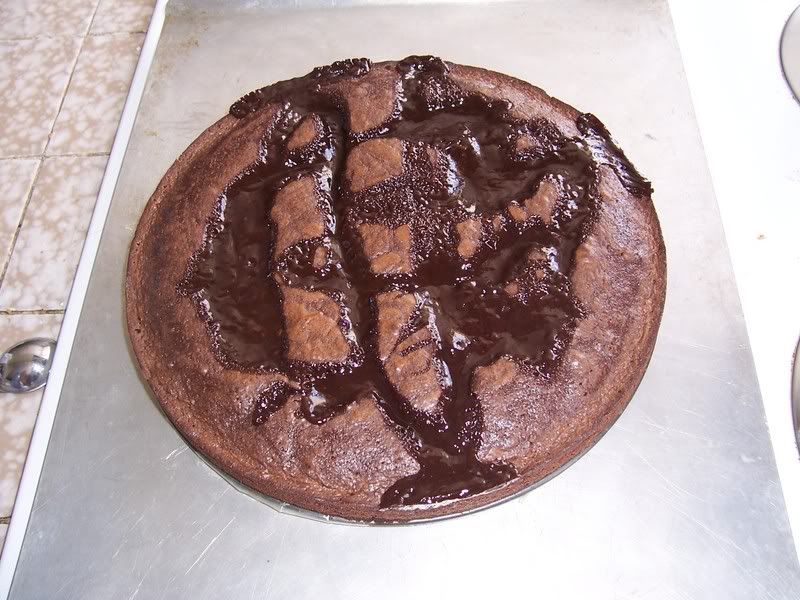 3) In a medium bowl stir together cream cheese, coffee, sugar, and rum. Spread onto top of cake.
4) Hold white chocolate bar and dark chocolate bar over cake and using a vegetable peeler scrape shavings onto cake. If
chocolate
starts to melt stick it and the peeler in the freezer for a couple minutes. Refrigerate cake until ready to serve.