I went to The Willows with Randy a while ago with one thought in mind... To preview it as a possible place for our rehearsal dinner for our wedding next year. Because we may book the place, our meal was complimentary. I had eaten there only once before and didn't really pay much attention to the food, so I was very gracious for the time to closely scrutinize the dishes.
The
ambiance
and surroundings of the restaurant are amazing. The moment you step inside you are no longer in the busy University area of Honolulu, but are transported to a place where tropical meets Asian, and where lush waterfalls and streams meet brightly colored foliage. It truly is a place for
aesthetics
and if I were to book based on atmosphere, I wouldn't have a second thought. There is even a chapel where people get married- At the restaurant! Randy's favorite was the jumping fountain that sprays water vertically out of the cement, 8 feet into the air, in patterns and designs that are random. I have been told children love to run through it and get soaked. My favorite was the small barge like platform in the middle of the
koi
pond. It is a special seating area for no more than 10 but gives one the feeling that you are floating down a serene river.
Unfortunately though, the food was hit and miss. I had high expectations from everyone about the food, but I found myself somewhat
disappointed
. We went for the weekday lunch, a limited buffet compared to the dinner buffet spreads.
I liked the salad spread and I headed there first. I really enjoyed my three choices from there, shown in the upper left corner of my plate are the Bean Sprout
Namul
, a tomato salad, and what seemed to be like a Greek salad. Though it mentions online that the
Greek
salad comes with pita bread, I didn't see any, but that didn't matter much. The salad was lettuce, chick peas, cucumber, onions,
tomatoes
, and feta cheese with a great Italian-like dressing. Come to think of it, that was probably their house salad. But it sure had a lot of ingredients and was really good!
The entrees were so-so. My two favorites that I got seconds of were the
Misoyaki
butterfish
and the
Mochiko
chicken. (shown bottom/middle of plate) I was looking forward to making a bowl of curry and adding all the condiments, but it wasn't that good either. Even with my favorite toppings added (raisins and mango chutney), the flavor was average and I wasn't
compelled
to even finish my mini cup. (shown below)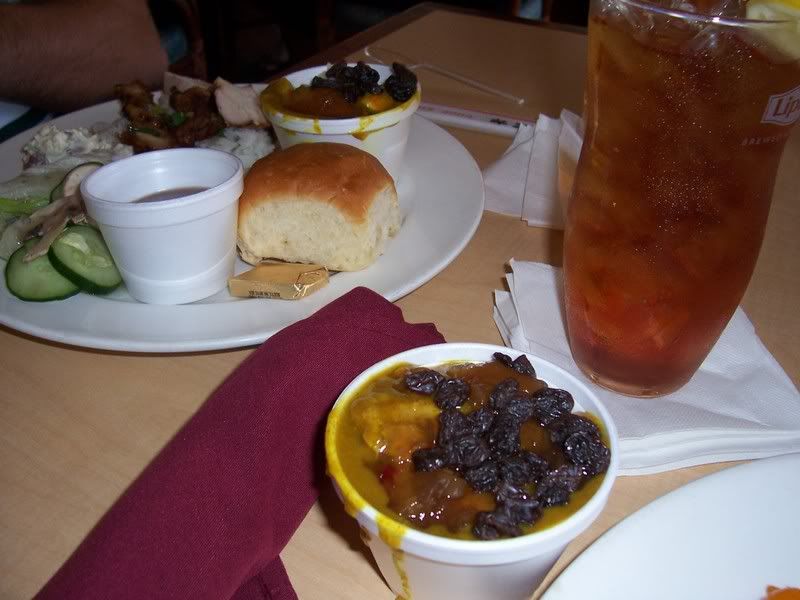 I was really looking forward to the quality of the Hawaiian food
because
many of the wedding party (Randy's family) will be from out of state and will have never tasted Hawaiian food. This is what my decision was banking on, and I have to say I was unimpressed and
disappointed
. Poke (raw fish salad) is one of my favorite foods and the poke here didn't have much kick to it in regards to flavor. Also, the raw fish didn't look too fresh in it, maybe because it had been sitting out in the buffet line for a while. Let's just say I enjoy the poke made from local supermarkets better than this one. The flavor of the
lomi
salmon was a little "off" as well- meaning it didn't taste like the traditional Hawaiian style I love. I enjoyed the poi and the savory
lau
lau
(chicken wrapped in taro leaf and slow cooked), and if all the other Hawaiian foods had been up to par with them I would have been happy. Another downfall was the
Kalua
Pig (salted smoked pork, essential to Hawaiian luau food). The pig didn't have the almost-too-salty-to-bear flavor traditional of the dish and that is what makes it signature- the fact that you must eat each bite with a scoop of rice.
Finally onto the desserts! There were bite sized pieces of
several
different choices that all were average if best. (sorry no picture) I am such a dessert person that its sad when I don't
feel
compelled to eat all of the serving I take, and that is what happened with most of the desserts on my plate. I was excited to try the fried
Haupia
(coconut custard, almost the consistency of creamy thick jello), but found it flavorless and unappealing. The bread pudding with pineapple was pretty good in flavor, but somewhat dry with too much bread and not enough pudding. The soft serve ice cream machine was out of order (which made me sad-that's usually my favorite) and I wasn't impressed with any of the following: chocolate mousse cake,
tiramisu
, and cheesecake. My favorite on the dessert tray was the fresh fruit, interpret that how you will.
I'm glad the lunch was complimentary because unless I was treated by someone else, I'm not sure I would go again. Though the setting was lovely and a few dishes shined, the majority was not the quality I had in hopes for my future
in laws
and their first taste of the islands.